20 Popcorn Flicks We Can't Wait to See in 2015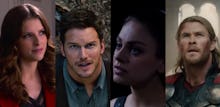 One of the most exciting parts about the start of a new year is finally getting to watch all those movies that you've been eagerly awaiting since catching the previews. Or perhaps you binge-watch movie trailers on YouTube, hoping to pick up on any new little detail about the feature. But now 2015 is almost here and bringing a whirlwind of new flicks to watch.
While most people are making New Year's resolutions, like going to the gym more or stopping bad habits, why not make one more reasonable, like watching more movies? Here's our list of some of next year's most highly anticipated movies.
Spare Parts
Starring: George Lopez, Alexa PenaVega, Jamie Lee Curtis, Marisa Tomei
What to expect: A group of four high school students band together to compete in a national robotics competition. The group takes the crown against MIT with just $800 and used car parts. All of the victors are undocumented immigrants from Mexico.
Why you should watch: Based off the Wired magazine feature "La Vida Robot," the movie is a true underdog story. It's also bringing visibility to underrepresented communities in Hollywood. And as Variety reports, Hispanics contribute 19% of the U.S. box office and represent 17.5% of the population. 
Release date: Jan. 16
Mortdecai 
Starring: Johnny Depp, Gwyneth Paltrow, Ewan McGregor
What to expect: Art dealer Charlie Mortdecai (Depp) travels the globe to retrieve a stolen painting rumored to contain the code to a lost bank account filled with Nazi gold. Racing some dangerous adversaries, Mortdecai is simply armed with his charm and a memorable mustache. 
Why you should watch: Depp's debonair frontman is reminiscent of his Jack Sparrow character from Pirates of the Carribean. But this time around, he's traded in his pirate clothes and a ship crew for well-tailored suits and a team of eccentrics. 
Release date: Jan. 23
Jupiter Ascending
Starring: Mila Kunis, Channing Tatum, Eddie Redmayne
What to expect: After their mother dies, three celestial children war over the throne of one of the galaxy's most powerful alien dynasties. But an unexpected heir emerges: Jupiter Jones (Kunis), a home caretaker on Earth. Along with the protection of an intergalactic warrior (Tatum), she has to fend off headhunters after one of the hopeful heirs, who wants to steal Earth's life force, puts a bounty on her.
Why you should watch: After being bumped from its original release date in July, it looks like the film is being re-marketed with Jupiter being more kickass than damsel in distress. The visuals from the trailer are stunning, and the chemistry between Tatum and Kunis looks super convincing. Also, usual good guy Redmayne is playing a sinister villain.
Release date: Feb. 6
The Spongebob Movie: Sponge Out of Water
Starring: Tom Kenny, Bill Fagerbakke
What to expect: Everyone's favorite sponge who lives in a pineapple under the sea is popping out of the water and going 3-D with his crew of friends. The Bikini Bottom residents must recover the Krabby Patty secret formula after an evil pirate steals it.
Why you should watch: Before you turn away from the porous protagonist, take a look at the trailer. The Spongebob Movie is bringing all the silliness and laughs from the animated series to the big screen. And if you're not convinced, it's likely a younger cousin is going to make you take them anyway, because Spongebob is still one of our most recognizable children's cartoons. 
Release date: Feb. 6
Kingsman: The Secret Service
Starring: Colin Firth, Samuel L. Jackson, Taron Egerton
What to expect: A young troublemaker (Egerton) gets a chance at achieving his true potential after being recruited into a super-secret spy organization. Just as his training starts, a tech genius' wicked plan puts the world in danger.
Why you should watch: Between the posh spy gadgets that would make James Bond jealous and the city-slicker charm of Egerton's character, Kingsman looks like a bundle of secret operative fun. Also, Adele is supposed to make a cameo, and who doesn't love that sultry songstress?
Release date: Feb. 13
Fifty Shades of Grey
Starring: Jamie Dornan, Dakota Johnson
What to expect: Anastasia Steele (Johnson) gets to interview the young, attractive and mysterious billionaire Christian Grey (Dornan). The two start a heated relationship, and soon Ana finds out the "singular" taste that Mr. Grey has for BDSM that comes from his need to control everything. 
Why you should watch: Since the announcement that there would be a film adaption of the bestselling book, there has been a ton of buzz surrounding the project. Reception of the book is mixed, with many critical of its writing and wrongful portrayal of BDSM practices. We'll have to wait and see if the movie lives up to the trilogy's erotic reputation. 
Release date: Feb. 13 (perfect for Valentine's Day, obviously)
Cinderella
Starring: Cate Blanchett, Lily James, Richard Madden, Helena Bonham Carter 
What to expect: Everyone knows the story of Cinderella, the kind and humble girl with an evil stepmother. Cinderella's fairy godmother decks her out in a princess package, including a ball gown and pumpkin carriage, but Cinderella loses her glass slipper while rushing out of the party. The prince who has fallen in love with the girl is in search of the lady whose foot fits the slipper. 
Why you should watch: There have been other versions of Cinderella, and all have enchanted audiences. The tale truly is ageless and the updated adaptation, directed by Kenneth Branagh, is sure to impress both longtime lovers of the princess and wide-eyed youngsters. 
Release date: March 13
The Age of Adaline
Starring: Blake Lively, Michiel Huisman, Harrison Ford
What to expect: After an incredible accident, Adaline Bowman (Lively) has remained 29 for almost 80 years. Afraid of getting too close to anyone, she has lived a solitary life. But when she finally falls for a charming philanthropist (Huisman), something from her past threatens to reveal her secret. 
Why you should watch: It's Tuck Everlasting meets The Curious Case of Benjamin Button. While it's always uncertain how romances like this may do with the critics, The Age of Adaline is sure to bring in the cash at the box office, especially with big names like Ford and Lively. It'll be exciting to see what layers Adaline's eternal youth brings to the plot.
Release date: April 24
Avengers: Age of Ultron
Starring: Robert Downey Jr., Mark Ruffalo, Chris Hemsworth, Scarlett Johansson, Chris Evans, Jeremy Renner, Elizabeth Olsen
What to expect: The franchise superheroes are back with a brand new enemy who's bent on human extinction (surprise, much?). Also joining the fray are Quicksilver and Scarlet Witch, two mysterious newcomers with amazing abilities. 
Why you should watch: Age of Ultron is sure to be another summer blockbuster (the first Avengers film remains the third-most profitable movie of all time). Hopefully, the cast chemistry that truly made the first team-up will return, while new twists and challenges are thrown their way.
Release date: May 1
Pitch Perfect 2
Starring: Anna Kendrick, Rebel Wilson, Skylar Astin, Brittany Snow
What to expect: The return of the Barden Bellas. On the heels of their national a capella win, the girls are facing something even bigger: a worldwide a capella competition that no American group has ever taken. Of course all the singing is back, as are Fat Amy's (Wilson) one-liners. 
Why you should watch: The original Pitch Perfect was a sleeper hit that became the second-highest grossing music comedy film ever. From the trailer, it looks like the same energy that made the first movie so enjoyable is intact. The film's youthful, snarky tone makes it a delight to watch -- and the talent is pretty damn good as well. 
Release date: May 15
Tomorrowland
Starring: George Clooney, Hugh Laurie, Britt Robertson 
What to expect: There's still very little known about the upcoming science fiction mystery adventure (yes, all of those) film from Disney. What we do know is that Frank (Clooney) and Casey (Robertson) travel to the mysterious Tomorrowland for a danger-filled mission, but their actions in the unknown place also have consequences in the real world. 
Why you should watch: With so little known about the project, Disney is really trying to lure audiences into coming to watch. But with Clooney on the screen, is there really any reason not to watch? Oh, and the plot sounds pretty cool too, of course. 
Release date: May 22
Jurassic World
Starring: Chris Pratt, Bryce Dallas Howard
What to expect: 2014 breakout star Pratt plays a velociraptor researcher at Jurassic World, a fully functioning dinosaur theme park. But with pressure to increase visitor attendance, the park's scientists create a hybrid dinosaur that breaks free and runs wild on island. 
Why you should watch: You might watch the trailer and think to yourself, "Of course it was a horrible idea to play with dinosaur DNA, did you not learn anything from the first three Jurassic Park movies?" But dino lovers are sure to return to theaters to see what happens. 
Release date: June 12
Inside Out
Starring: Amy Poehler, Bill Hader, Mindy Kaling, Phyllis Smith, Lewis Black
What to expect: It's coming from Pixar Animation Studios, so you know it's going to be nothing but adorable. Five emotions (Joy, Anger, Disgust, Fear and Sadness) live inside the head of a young girl named Riley. Joy (Poehler) tries to resolve conflict and keep balance among the emotions as Riley deals with moving to a new city. 
Why you should watch: The voices behind the five emotions are some of the funniest names in Hollywood at the moment, and they'll put a hilarious spin on the cuteness of the animated characters. 
Release date: June 19
Paper Towns
Starring: Nat Wolff, Cara Delevingne, Halston Sage
What to expect: Another John Green book adaptation, the young adult fiction novel is about a young teenager who searches for the girl next door who has gone missing.
Why you should watch: Young adult fiction is huge right now. Divergent, The Hunger Games, The Fault In Our Stars and more were all penned within a genre that highbrow snobs often give a bad rep. Green impressed with the movie version of Stars, and Paper Towns hopefully will exceed expectations as well. 
Release date: June 19
Magic Mike XXL
Starring: Channing Tatum, Matt Bomer, Joe Manganiello
What to expect: Everyone's favorite male strippers are back. This time around, Magic Mike and the other pieces of man-meat are on a road trip from Tampa, Florida, to Myrtle Beach, South Carolina, for a stripping convention. 
Why you should watch: The plot behind these movies might not be totally enticing, but the abs and biceps sure are. Magic Mike XXL might not be in the running for any Academy Awards, but it puts on a good show. Much like the main characters. 
Release date: July 1
Ant-Man
Starring: Paul Rudd, Evangeline Lilly, Corey Stoll
What to expect: Petty criminal Scott Lang (Rudd) gets his hand on a gas that lets him shrink but increase in strength, becoming Ant-Man. He then uses his newfound ability to fight off trouble and defend the planet. 
Why you should watch: In what will be the Marvel Cinematic Universe's 12th installment, it'll be interesting to see what sort of tone the movie takes. The feel of Captain America might not fit best for an insect-sized superhero, so will it have the campier feel of Guardians of the Galaxy? We'll have to watch to find out. 
Release date: July 17
The Fantastic Four
Starring: Miles Teller, Kate Mara, Jamie Bell, Michael B. Jordan
What to expect: A reimagining of the 2005 Fantastic Four movie that starred Jessica Alba and Chris Evans, four scientists teleport to an alternative universe, which results in super abilities. The quartet must work together to save the Earth, like any standard superhero movie.
Why you should watch: With the success of the Spider-Man reboot, the Fantastic Four comeback will probably bring big gains to 20th Century Fox. And while some were upset with the casting of Jordan as the Human Torch, many others are excited to have some much-needed diversity in the mainly white superhero genre. 
Release date: Aug. 7
The Hunger Games: Mockingjay - Part 2
Starring: Jennifer Lawrence, Josh Hutcherson, Liam Hemsworth
What to expect: The end of the Hunger Games film series, with Katniss Everdeen and the rest of the rebellion fighting to take down the Capitol. 
Why you should watch: While most are still talking about Mockingjay - Part 1, which came out in November, Part 2 will finally close out the movies. It's expected to be jam-packed with action, something that Part 1 lacked, since it was setting up the end (much like the two parts of Harry Potter and the Deathly Hallows). Forget whether or not Katniss chooses Peeta or Gale: This movie's all about the explosive end to Suzanne Collins' storyline.
Release date: Nov. 20
Star Wars: Episode VII - The Force Awakens
Starring: John Boyega, Daisy Ridley, Adam Driver
What to expect: Thirty years after the events of Return of the Jedi, this installment continues the iconic saga from George Lucas. 
Why you should watch: Because it's Star Wars, duh. The trailer shows a lot of all things Jedi given an update, such as the lightsaber that caused a lot of uproar in fan communities. With today's cinematic technologies, we're sure to experience a cosmic modernization of the widely loved franchise.
Release date: Dec. 18
Peanuts
Starring: Bill Melendez
What to expect: Charlie Brown, Snoopy and the rest of the Peanuts gang are getting their big-screen debut in 3-D animated fashion. It'll be using archive recordings of original Snoopy voice actor Bill Melendez's and commemorate the 65th anniversary of the comic strip.
Why you should watch: The unforgettable children's cartoon sparked imagination and happiness in countless kids growing up. Good grief, it'll be pretty much a whole year until the movie hits theaters. But when it does, it'll be a treat well worth the wait. 
Release date: Dec. 21
Better order an extra large popcorn, there's a lot to get through. While some of these don't come out for a while, thankfully there's a steady stream of titles popping into the theaters that will always be great to fill up a weekend.