Beyoncé Just Accomplished Something No Other Woman Ever Has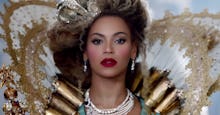 Beyoncé has been a queen since the day her career began in 2000. But with this morning's announcement of the first round of this year's Grammy nominees, her title took on even more weight. 
Beyoncé is now officially the most Grammy-nominated female artist in history.
With her nomination for Best Urban Contemporary album, Beyoncé officially broke the tie she held with Dolly Parton at 46 total nominations. Bey received her first Grammy nomination all the way back in 2000 for Destiny's Child's "Bills Bills Bills." And since then, she's received at least one Grammy nomination every year except for 2003, when she was working out her transition from the group into her awe-inspiring solo career. That career began with "Crazy in Love," her song with future husband Jay-Z, which won two Grammys for Best R&B Song and Best Rap/Song Collaboration.
This news puts a brilliant capstone on Beyoncé's incredible year. Her bold performance at this year's VMAs made feminism a "marquee issue on national television" as Mic writer Natalie Morin wrote. That ending shot of her standing in defiant silhouette in front of the illuminated "FEMINIST" sign was one of the most powerful images of 2014. And now she's becoming one of its most powerful symbols, too — a testament to the historic strides she's made as a female singer.
Her self-titled album released last December continues to make waves. It set a new standard for album releases, prompting numerous artists (ranging from U2 to Thom Yorke, and most recently J.Cole) to release their albums by surprise. The album remained a talking point in music industry journalism throughout the year, a testament to how groundbreaking it was. The album was recently re-released with four remixes and two new songs, including "7/11" which got an "unorthodox," but awesome video treatment.
Long live the queen.
h/t MTV