This Horrific Website Glorifies the Rape Of Undocumented Immigrants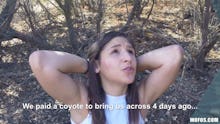 For migrant women, rape is a constant threat. But for others, it's a lucrative business.
One of the biggest pornography companies in the world, European conglomerate MindGeek, has created a new video series called Border Patrol Sex that features fake Border Patrol agents rounding up migrant women and arresting them before raping them and throwing them back across the border.
If that already sounds extreme enough to you, the series website (extremely NSFW) makes it crystal clear that the goal of the series is to appeal to racism and misogyny:
"Watch these guys hunting the illegal female immigrants and giving them a lesson on why the law should be obeyed. Cruising in their SUV, agents catch these college girls in the field and fuck them really hard. Getting fucked by border patrol agent is one thing, but these girls don't know that this doesn't really mean they get to pass the border afterwards. The harsh school of reality!"
A standard disclaimer located on the website stated that "characters and situations appearing in this work are fictitious." (Note: At publication, the website appears to have been made inaccessible.)
In real life, migrant women face the constant threat of rape. A 2010 report by Amnesty International estimated that around 60% of migrant women and girls experience rape, while a 2006 study found that 13 of 90 detained migrant women in Iztapalapa reported being raped by some kind of state official — exactly like the ones depicted in Border Patrol Sex. According to migrant shelter directors interviewed by Fusion, the number of migrant women raped en route to the United States may be as high as 80%. Here's a telling excerpt from Amnesty's report:
"Many criminal gangs appear to use sexual violence as part of the 'price' demanded of migrants. According to some experts, the prevalence of rape is such that people smugglers may require women to have a contraceptive injection prior to the journey as a precaution..."
According ACLU lawyer James Lyall, the American border control system isn't immune to the same kind of degrading treatment experienced in other countries. Interviews with detained migrant children in U.S.-run facilities found that one in four had experienced "physical abuse" at the hands of Customs and Border Protection agents, "including sexual assaults and beatings." Earlier in 2014, a Border Patrol agent killed himself after allegedly kidnapping and raping three migrant women. The actual scope of the problem may be impossible to know.
The violence faced by undocumented immigrants is of the exact same nature as that depicted in Border Patrol Sex. MindGeek's series exploits and glorifies imagery associated with the vicious and systemic sexual assault of migrants. It's just as wrong as if they filmed pornography featuring subordinated African slaves or victims of wartime rape. As the Daily Dot's Patrick Howell O'Neill puts it, "Art has never imitated life so disgustingly."
Vile behavior in pornography is nothing new. Porn titles like the Bang Bus series, which routinely features actresses being booted from the eponymous van without any payment for services rendered, have been around for years. With this new series, MindGeek has pushed the envelope for extreme misogyny in pornography even further. Considering the very real and omnipresent threat of actual rape that migrant women regularly face while trying to find a better life for themselves and their families, it's hard to interpret Border Patrol Sex as anything but a deliberate attempt to belittle and mock their powerlessness.
You don't have to be some kind of prude to recognize this is reprehensible.