Video: A Police Officer Punched This Handcuffed Woman — No Charges Were Filed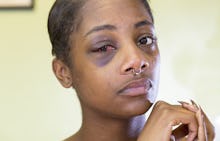 On the heels of grand jury decisions in Missouri and New York that cleared police officers of any wrongdoing in the deaths of two unarmed men, prosecutors in Seattle have decided to continue the trend.
No charges will be filed against Seattle Police officer Adley Shepherd, seen on video punching Miyekko Durden-Bosley, a handcuffed 23-year-old woman he had just arrested, according to the Seattle Times. In a press release issued Friday, King County prosecutors acknowledged that even with video evidence, the case was still too difficult to mount: "While Officer Shepherd may have had other options or alternatives, we have concluded that we would be unable to prove that Officer Shepherd's use of force was criminal."
The case dates back to June 22, when Shepherd was in the process of arresting an intoxicated Durden-Bosley under suspicion of domestic violence. Durden-Bosley can be heard "Fuck you, bitch" to Shepherd, allegedly kicking out at the officer. The video doesn't show whether or not Durden-Bosley actually struck the officer, although it does show what happened next: Shepherd responded to the kick by punching Durden-Bosley (reminder: still handcuffed) in the face, a blow which fractured her right orbital. 
Watch the incident here:
Both Shepherd and Durden-Bosley were treated at Harborview Medical Center. According to the Seattle Times, records obtained from Harborview showed "no obvious injury" to Shepherd.
Shepherd has been on administrative leave for the past six months, although that seems likely to end soon if a statement released by the Seattle Police Officers' Guild President, detective Ron Smith, is any indication:
"The Seattle Police Officers Guild hopes that Officer Shepherd will be returned to full duty as soon as possible, and that SPD will review its Force Investigation Team procedures to review whether the system is working in the best interest of all involved."
According to Smith, the guild believes Shepherd used reasonable force. "It is our opinion that had the suspect heeded the officers' commands, the resulting incident in question would not have occurred."