The Bill Cosby Rape Allegations Just Took An Even More Disturbing Turn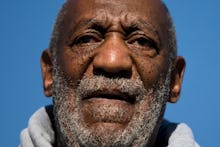 A former Playboy Club waitress is the latest woman to come forward with accusations that she was drugged and raped by Bill Cosby — and she says there are at least 12 more.
According to P.J. Masten, who worked as a "bunny manager" at Playboy's Chicago club in 1979, she was one of at least 13 Playboy Club waitresses who were sexually assaulted by Cosby when the married comedian was a regular at the club.
"[There are] 12 former bunnies that I know of that are ashamed to come forward, frightened to come forward, married with families, don't want to come forward." Masten told CNN's Alisyn Camerota. "But they were also drugged and raped by Bill Cosby."
The details of Masten's story echo the more than 20 public accusations against Cosby that depict assaults dating back to the 1970s. After offering to take Masten out to dinner, Cosby asked her if she wanted a cocktail in his room beforehand, preparing a glass of Grand Marnier and ice. "The next thing I knew," Masten says, "it was 4 o'clock in the morning. I woke up in a bed naked, bruised. He was laying next to me, and I slithered out of the bed ... I got myself together, I went downstairs, I got in a cab, and went home."
Masten told CNN that she knew exactly what had happened to her while she was out. "I knew I was raped. There were bruise marks all over me. I knew I was raped by him."
She says that she told her supervisor at the Playboy Club about the assault, but her allegations fell on deaf ears. "She said to me, 'You know that's [Hugh Hefner's] best friend, right?'" Masten said. "I said, 'Yes.' She said, 'Well, nobody is going to believe you. I suggest you keep your mouth shut.'"
It was only after connecting with other former bunnies on Facebook that Masten realized she wasn't the only one with horror stories about Cosby. "A couple of [them] private messaged me and said, 'He did me too. It happened to me, too.'" At least a dozen, by Masten's count, remain silent.
This brings the number of women who have either publicly or privately accused Cosby of assaulting them to 33. While most of the alleged assaults took place years or decades ago, precluding any kind of criminal trial, the court of public opinion has already ruled: Cosby has fallen from #3 to #2,615 on a list of "Most Trusted Celebrities." Although Cosby has not directly responded to this or any other rape allegations — minus a nebulous refutation of "innuendos" to Florida Today — if any of Masten's former colleagues come forward, expect calls for an honest response to grow even louder.