This Giant Inflatable Butt Plug Had Some Unexpected Consequences for Paris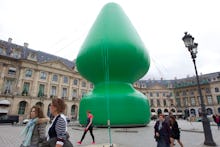 As it turns out, art really can change lives.
Earlier this fall, artist Paul McCarthy erected a massive new piece of art right in the middle of Paris: Tree, a giant green inflatable butt plug. And now, according to the English-speaking French paper the Local, since McCarthy's Tree sprouted up, butt plug sales have been going through the roof. 
"We used to sell around 50 a month," Richard Fhal, a sex toy wholesaler who supplies shops in Paris and runs his own retail website and small chain of stores, told the Local. "Since the controversy (in October) we've moved more than a thousand."
The Local notes:
"He noted that previously customers for anal plugs were almost exclusively male and gay, but in recent weeks heterosexuals — with an equal mix of men and women — had been snapping up the products that cost between [$25] and [$50] each."
Fhal also said that prior to McCarthy's Tree and the surrounding controversy, the term "plug" wasn't very popular in France, but that's since changed. "We were selling them as anal stimulators but now everyone in France knows the term 'anal plug,'" he said.
How we got here: When it was erected in mid-October, Tree quickly riled up right-wing conservative critics and even prompted a response from French President François Hollande. The giant sculpture was also subject to a number of vandalism attempts and general conservative scorn before finally being deflated and removed:
While the whole incident may seem kind of silly, Tree raised a number of important questions about local art displays and proved that art really can affect people and their lives. Even though "getting more people to buy more sex toys" may seem like an insignificant achievement, it's certainly something to be admired (especially considering the often maligned sex toy market) and shows that true art can still serve an important function in modern society. 
h/t Gawker