27 Stunning Photos of #BlackLivesMatter Protests From Around the Globe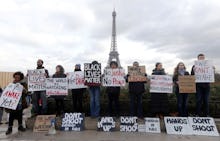 It's not just Americans that care about racist policing practices across the U.S. In protests held worldwide this week, thousands of people showed up to demonstrate solidarity with their counterparts in the U.S., protesting the deaths of Ferguson teenager Mike Brown and New York man Eric Garner.
According to Newsweek, protests hit worldwide metropolises like Tokyo, Paris and Delhi, while reports of related graffiti have also popped up in Germany. Supporters of the cause waved signs saying "America, the world is watching" and "no justice, no peace."
The marches also continued from coast to coast in the U.S., with yet another round of related demonstrations in New York and riot police clashing with protesters in Berkeley, California. In New York, the police arrested more than 220 people. Newsweek reports:
Late Friday night, protesters blocked traffic on Miami's I-95 freeway, which connects the city to the beach where Art Basel, the art fair extravaganza, is happening this week. Protests went on in Oakland, Chicago, Boston, Las Vegas, Los Angeles, Washington D.C. and New Orleans. There activists chanted "black lives matter" and "I can't breathe," the latter of which were the last words of Eric Garner.
Here are 27 of the best photos of activists everywhere letting the U.S. know the world is watching.
Tokyo
Paris
Melbourne, Australia
Hannover, Germany
Delhi, India
New York, New York
Berkeley, California