A London Bar Owner Had the Perfect Response to a Potential Customer's Anti-Gay Email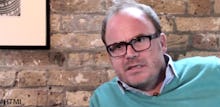 With the end of the year quickly approaching, it's just about office holiday party season. But for one bar owner in London, the usually simple process of booking parties became an unexpected opportunity to stand up to homophobic potential customers. 
This past week, a unnamed major international car dealership contacted Alexander Proud, a British entrepreneur and the owner of north London's Proud Galleries, about hosting their Christmas party at one of his bars. But in a follow up email, they asked Proud if the establishment was a "gay bar." Take a look:
Part of that email again:
"We have our Christmas staff party booked for next Friday at Proud."
The party planner was worried about the bar since it's "against some people religion [sic]." But instead of backing down, Proud, who knew he would potentially cost himself thousands of dollars of business, responded in a simple yet smart way:
And that email again:
"I think best we cancel your visit. We are pretty gay and a lot of gay stuff happens here."
Soon after, Proud posted the exchange on Twitter, with the comment: "So this happened. Major International car brand sent this homophobic e mail. Really shocked this still happens." The tweet quickly went viral and solicited a number of responses, both positive...
... and negative:
Proud told BuzzFeed News that the cancellation will cost his venue "several thousand pounds" unless he can find a replacement. But Proud knew that there was no way he could allow such homophobic behavior in his bar. 
"I was shocked that a lot of people said they didn't see what was wrong with their question," he told BuzzFeed News. "I think some people think homophobia is a thing of the past – there were a lot of people out there who think it's a fair question. A lot of people think you can justify homophobia using religion."
Unfortunately, as Proud's interaction reveals, homophobia is not a thing of the past, but still a very real and unfortunate truth, permeating everything from holiday parties to airport waiting lines. But, as Proud shows, sometimes the best response is to just shut those people down.
"I was relieved to get that email because I wouldn't have wanted those people in my venue anyway," he added.
Happy holidays, indeed.