Powerful Video from Syria Captures the Humanitarian Crisis the World Forgot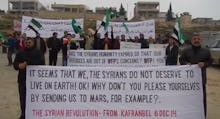 The news: Throughout the past year, protests have rocked the world from Mexico to Hong Kong to Ferguson, Missouri. But this weekend, there was one demonstration that the mainstream media largely glossed over — a desperate plead for the world to pay attention to the horrifying humanitarian crisis that the international community has virtually ignored for far too long.
On Saturday, a group of demonstrators in Kafr Nabl, Syria, released a video protesting the United Nations World Food Programme's recent decision to suspend its food aid scheme in Syria, Jordan, Lebanon, Turkey, Iraq and Egypt due to a funding crisis. "Has the Syrians humanity expired, so that our refugees are out of WFP's concerns?" one of the banners asks.
The Syrian refugee crisis is bad and getting worse. According to estimates, over 10 million people — nearly half of the entire population of Syria — have been displaced by the ongoing conflict between Islamic State, the regime of dictator Bashar al-Assad and the opposition fighters. While 7.2 million are believed to be internally displaced, the other 3.2 million have been forced to cross the border.
But even when these refugees find a place of safety, the conditions they encounter have been horrifying. In recent months, reports have highlighted atrocious living conditions inside Syria and beyond, which one U.N. official described as "apocalyptic."
Due to the standoff between pro-Assad forces and rebel fighters, refugees inside Syria have been forced to live off a diet of water, animal food, spices and weeds. The lack of proper food has caused a malnutrition crisis, especially among children.
"Just today, three people tried to go to an empty field to eat grass from the ground, and they were shot by snipers," a resident of the Yarmouk refugee camp told CNN. "If you can imagine, people are dying just to eat grass."
The international community needs to step up. Last Friday, Amnesty International released a blistering report condemning governments for not contributing enough to the refugee crisis and, in many cases, failing to follow through on their pledges.
"The international community has largely stood on the sidelines, promising support to Syrians and countries hosting them, but, in reality, delivering little. While numerous countries in the Gulf, Europe and North America have rallied their resources in response to the rise of the [Islamic State], they have let down those that have fled the atrocities committed by the group," the report reads.
Food has been an especially big issue, with around 12.2 million Syrians both in and around Syria believed to be reliant on emergency food aid. WFP alone is estimated to have fed up to 1.8 million people in the region, all of whom will go hungry unless the program finds more funding — which will be especially dangerous in the middle of winter.
"A suspension of WFP food assistance will endanger the health and safety of these refugees and will potentially cause further tensions, instability and insecurity in the neighboring host countries," WFP Executive Director Ertharin Cousin said in a statement. "The suspension of SFP food assistance will be disastrous for many already suffering families."
According to WFP, it needs $64 million in funding in order to reinstate its food voucher program in Syria and surrounding countries just for the month of December.
The organization recently completed a 72-hour fundraising drive, but you can still donate here.