Another Disturbing Video of Police Brutality Just Emerged in Arizona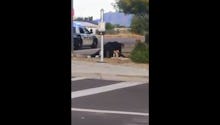 Less than one week after protesters flooded the streets of New York in reaction to the Eric Garner grand jury decision, another disturbing video has emerged of police officers appearing to abuse a citizen in their custody — eerily similar to the video that captured Garner's death last July.
Santiago stated on Facebook that the second woman in the video was the girl's mother, who attempted to explain to the officer that her daughter was "emotionally unstable" and suffering from asthma.
Berry told Mic that the girl had been arrested for aggravated assault and was currently undergoing a psychiatric evaluation.