John Legend and Chrissy Teigen Have Joined the #BlackLivesMatter Fight in an Amazing Way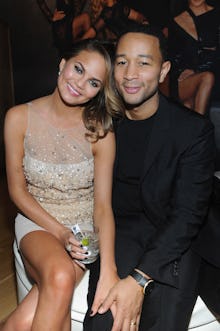 It's been a rough few weeks for many Americans following the news of jury proceedings in Ferguson, Missouri, and New York City, where grand juries decided not to indict police officers implicated in the deaths of two unarmed black people.
In the days since, several thousand people across the country have taken to the street in widespread protests, time- and energy-consuming efforts that they hope will ultimately send a message to lawmakers and others around the world regarding the country's racially biased law enforcement climate. 
John Legend and Chrissy Teigen, a New York City power couple that has earned a reputation for their past social awareness, have now decided to join the fight. In a major show of solidarity with protesters, the duo sent food trucks Sunday evening around New York City to feed protesters for free, offering them the nourishment they need to continue the fight. 
Teigen, who is also a popular food blogger, took to social media to help let their fans know where the food trucks would be stationed throughout the area. She retweeted messages from local organizations and pointed people in the direction of participating food trucks offering free meals to the protesters.
Protests following news that a Staten Island grand jury voted not to indict an officer shown on video using a chokehold to apprehend Eric Garner for allegedly selling untaxed cigarettes have stretched for five consecutive days in New York City. Garner died as a result of the use of force; his last words, repeated roughly a dozen times, have since become a rallying cry for protesters in New York and around the country: "I can't breathe."
Legend and Teigen's generosity seems not to have gone unnoticed by the protesters, many of whom took to social media to show their appreciation:
Meanwhile, Legend, who has been outspoken in his criticism of the recent rulings, shared a new inspirational song titled "Glory" written for the upcoming film Selma — which tells the story of the marches that led to the passage of the 1965 Voting Rights Act. He noted both in the song and in his tweet that many people are doing today what others had to do 50 years ago as part of a broader struggle for civil rights.
Legend and Teigen represent a counterpoint to many other public figures with large platforms who have remained silent in the wake of such polarizing, tragic events. In contrast, both Legend and Teigen offer a powerful example for how people with large platforms can positively engage. Hopefully what they've done for those protesting in New York City encourages others to take part in what are becoming increasingly essential conversations about how we police — and are policed — in modern America. 
h/t The Grio