Meet the First Black Woman to Ever Win a Swimming World Title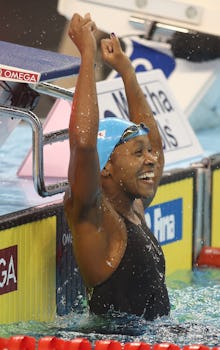 Jamaica's Alia Atkinson became the first black woman swimmer to both win a world title and break a world record on Saturday, taking first in the 100-meter breaststroke at the world short-course championships in Doha, Qatar.
Atkinson beat Lithuania's Ruta Meilutyte by 0.1 seconds, with a time of 1 minute and 2.36 seconds. That ties Meilutyte's world record, but Atkinson's time qualifies as the new record under current swimming regulations.
Atkinson's reaction was priceless — as was her victory, which is hugely symbolic in an overwhelmingly white sport.
This is so much more than just a swimming title. Atkinson's win is a major first in a sport that has, for most of its history, been lily-white. The lack of diversity could be attributed to economics: It costs money to belong to a swim club and team, as well as to register for and attend prestigious swim meets. Swim legend Donna de Varona noted the cost barrier in a 2012 appearance on MSNBC's The Melissa Harris-Perry Show. Throw in a pricey, high-tech swimsuit, and it's easy to see how the sport would be a burden to low-income families — with poverty rates higher among racial minority populations — with few discretionary funds.
But it's not all economic. The New York Times reported on a 2010 study by the USA Swimming Foundation and the University of Memphis that found "fear trumped financial concerns across all respondent race groups in low-income families" as to why, the study claims, nearly 70% of black children cannot swim.
In America, pools were racially segregated beginning in the 1920s and '30s if not by a club's policy then by other, more violent means. As historian Jeff Wiltse, author of Contested Waters: A Social History of Swimming Pools in America, explained in an interview with NPR, if people of color were granted swimming access, they were often beaten by whites. 
Wiltse specifically talked about Pittsburgh, which "did not pass an official policy of racial segregation at its pools. But rather, the police and the city officials allowed, and in some cases encouraged, white swimmers to literally beat black swimmers out of the water, as a means of segregating pools, as a means of intimidating them from trying to access pools." Guards were also posted outside some pools.
The sport has a history of racism outside the U.S., too. In women's swimming, this was most evident in the needless investigation and questioning of China's Ye Shiwen after she broke the 400-meter Individual medley world record at the 2012 Olympics. Racism occurs on this level when there is widespread disbelief that a person who is not white can excel at a white-dominated sport.
Could this be a turning point? Atkinson clearly knows what she symbolizes in the sport, taking the attention as an opportunity to raise some much needed awareness. "Hopefully my face will come out," she told the Telegraph, "there will be more popularity especially in Jamaica and the Caribbean and we'll see more of a rise and hopefully in the future we will see a push."
If this tweet is any indication, her message has been heard, loud and clear.