17 Powerful Photos Show the #BlackLivesMatter Protests Still Rocking the U.S. Right Now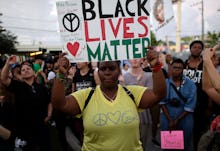 Almost a week after a New York grand jury decided not to indict a police officer for the death of Eric Garner, nationwide protests against police brutality and racial injustices show no signs of slowing.
Demonstrations continued in full force over the weekend in New York, Berkeley and Oakland, California, Chicago, Boston, Miami, Las Vegas, Los Angeles, Washington, D.C., New Orleans and other cities. They initially gained momentum just before Thanksgiving after the non-indictment of police officer Darren Wilson in the shooting death of unarmed 18-year-old Michael Brown in Ferguson, Mo., but were sparked even further after last week's Eric Garner decision. 
New York: Protesters took over a Macy's and H&M in Midtown Manhattan on Sunday night. One group also sang "justice carols" at Penn Station, while others rallied inside Apple's flagship Fifth Avenue store. The activity continued Monday morning; DNAinfo reported that about 30 people blocked a major entrance to the Verrazano Bridge during rush hour.
California: Protests took a violent turn when more than 100 police officers used tear gas on protesters in Berkeley on Saturday night, the Daily Californian reported. Some demonstrators also vandalized stores and threw objects at police officers, according to Al Jazeera America. 
In Oakland, hundreds of protesters took over Interstate 880 and closed down the West Oakland BART station on Friday. "Since we were born, we've been oppressed," one protester told the San Francisco Chronicle. "We are sick and tired of it, and we will be out here every day until we get the free will that we deserve as human beings." 
Miami: According to the Associated Press, a major freeway between Miami and Miami Beach was blocked Friday by demonstrators in Midtown Miami. Protests continued Sunday for the third-straight day, and came at the close of Art Week Miami. 
Chicago: Religious leaders led the charge on Sunday. Multiple congregations from different neighborhoods joined their pastors in protesting against the deaths of Brown and Garner at the hands of police. "The enemy might choke the breath out of our bodies but they cannot choke the breath out of our spirit," said Rev. Michael Pfleger of St. Sabina Catholic Church during Sunday's service. 
On Friday, protests looked similar to those happening all over the country, with marches down city streets and chants of "I can't breathe." 
Washington, D.C.: Activists continued their work in the nation's capital over the weekend, where they staged a die-in at Union Station on Saturday. That night, they also took to the streets of downtown D.C., briefly blocking intersections, NBC Washington reported. 
Protests weren't limited to public demonstrations by protesters. On Saturday night, Chicago Bulls point guard Derrick Rose wore a T-shirt during warm-ups with "I can't breathe" printed on it during warm-ups. And on Sunday, Detroit Lions running back Reggie Bush, Cleveland Browns cornerback Johnson Bademosi and St. Louis Rams offensive lineman Davin Joseph all displayed the same message as part of their gear. 
As protests continue — not only in the U.S. but across the world — they show no sign of stopping anytime soon. 
The family of Eric Garner, for its part, is thankful. "It is just so awesome to see how the crowds were out there," Garner's mother, Gwen Carr, told USA Today. "They are out there. They are standing for my son. My heart is overflowing with joy. It's just a gracious feeling."