If You're Under 35 and Getting Screwed Out of a Decent Paycheck, You're Not Alone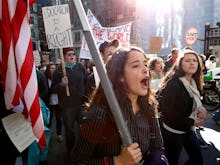 Have you been struggling to pay the bills in retail while your expensive college degree gathers dust on your mantle?
According to a new report from activist group Young Invincibles, you're not alone. Over the past decade, income in the industries most likely to employ Millennials haven't just stagnated, they've shrank.
For young people, mediocre jobs with low pay are quickly becoming the new normal. The depressing reality is that as the Great Recession fades, Millennials will continue to suffer in the economy as meaningful jobs with decent salaries continue to remain out of reach.
The data: In the five industries where most 25- to 34-year-olds work, four have seen median income decrease. These four — retail, leisure/hospitality, manufacturing and profession and business services professionals — collectively employ 46.2% of 25- to 34-year-olds.
As Slate's Jordan Weissman points out, the decline in wages in these sectors for 25- to 34-year olds is immense: retail and wholesale (-9.9%), professional and business services (-4.28%), leisure and hospitality (-14.65%) and manufacturing (-2.87%). 
On average, that's a 7.93% drop.
Among younger workers in the 18 to 24 age group, the news is nearly as bad: Four out of five sectors are stagnating or saw decreases in pay. Among 18- to 24-year-olds working in retail and wholesale, the difference is an astonishing $2,000 a year less in earnings compared to a decade ago.
A potential bright spot? The sole exception for 25- to 34-year-olds was the ever-growing health care industry, where wages rose just 0.1% over the past decade. However, as Weissman argues, this basically means "the hiring climate has been so bad in the past few years that young people's incomes are stagnant even when they work in a hot industry where you often hear about purported labor shortages."
Young Invincibles' report mirrors data released by the U.S. Census last week which indicated that today's 18- to 34-year-olds are considerably more educated than their parents but much less financially secure.
That's not even counting student debt. In July 2013, 65% of bachelor's degree recipients owed money on their loans, with an average debt load of $27,547. It will take a lot of time, effort and paid interest for low-wage workers to crawl out from under this hole.
Young people have always made less than older, more experienced workers, but on a recent MSNBC segment, Young Invincibles' Jen Mishory and Business Insider's Myles Udland argued that while unemployment was dropping, wages were simply not keeping up with inflation and the government wasn't doing enough to help connect young people with good jobs.
The report also suggests that young workers are struggling to find better opportunities, meaning they get stuck in low-paying jobs with stagnant wages for much longer than previous generations.
"The data shows that Millennials are taking jobs and keeping them," Young Invincibles policy analyst Konrad Mugglestone told the Washington Post. "But unfortunately, the jobs they're taking are the ones that don't offer high wages, and they don't offer opportunities to grow."
A relatable problem: This should be a familiar story to many young people: It takes forever to find a job, and eventually the one that comes along barely pays the bills and doesn't advance a career. Meanwhile, the OECD recently concluded inequality in top economies is now so high it's having a serious impact on growth, while other analysts have concluded that 60% of Americans have experienced stagnant or shrinking wages over the past decade. At least there's some solace knowing that you're not alone.