Donald Glover Is Finally Getting the Recognition He's Always Deserved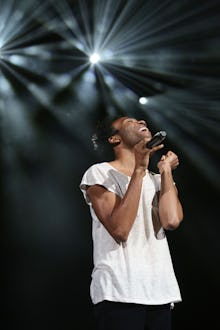 Childish Gambino has fought against Donald Glover for his whole career.
Glover, who wrote for SNL and 30 Rock and starred on Community, has been trying to be taken seriously as a rapper, when the public only wants to see him as a comedian.
But on Friday, Glover's long, storied rap career finally got the recognition it deserves. His most recent album, Because the Internet, was nominated for a Grammy for Best Rap Album, going up against Eminem, Common, Iggy Azalea, ScHoolboy Q and Wiz Khalifa for the coveted award.
Glover might actually have a shot at winning, too, because his competition is stiff in every sense of the word — these albums are both commercial successes and totally predictable and formulaic affairs (with the exception of Oxymoron). Because the Internet was none of those things — it was one of the most flexible and fascinating albums of the year. And its undeniable excellence is what has finally earned Glover his shot at the big time.
Glover has struggled to be taken seriously as rapper for years. He started his music career while working as a writer for 30 Rock, choosing "Childish Gambino" as a moniker after getting it from a Wu-Tang name generator. His decision to pursue music surprised a lot of people, but not Tina Fey, 30 Rock's creator and lead actress. 
"Donald comes from a generation that is very confident doing it all," she told Complex. "They are comfortable being rapper/actor/entrepreneur/fashion designer/sex-tape authors. Lots of rappers become actors. Why not do it the other way around?"
It hasn't been quite that easy. Music blogs and hip-hop forums mocked Glover mercilessly when the actor first released his music. Pitchfork gave his first studio album an insulting 1.6, calling it one of the most "unlikable rap records of the year." 
That review is soul-crushingly harsh. But Glover powered through. He kept spitting and releasing mixtapes featuring some of the most clever lyrics in hip-hop. He bared his soul on social media, coming off as extremely authentic, self-aware and relatable, despite all of Pitchfork's claims to the contrary. He came clean about a suicide attempt, offering some insightful words to others facing seemingly similar insurmountable problems.
And through that consistent honesty, Glover managed to build a solid following, getting some big names in hip-hop behind him.
"Folks are sleeping on [Glover], because they seen him on TV first," veteran hip-hop DJ Sway told Complex earlier this year. "They think he's corny or they don't give him a shot. As he continues to evolve he's differentiating himself from the others."
Sway gave Glover a shot to prove himself on his morning radio show in October 2013, right as promotion for Because the Internet was ramping up. The freestyle that Glover spit over Drake's "Pound Cake" beat took the hip-hop community by storm. It sounded spontaneous, personal and raw, like an actual freestyle, which is rare for most of these radio spots that are often simply unreleased prewritten verses.
Glover's album Because the Internet dropped shortly thereafter, to a much bigger reception from the hip-hop community than he'd ever experienced. Few could doubt the impressive scope or artistry of the album. He sought to paint a picture of the simultaneously fascinating and isolating qualities of the Internet, and he succeeded. 
The album took advantage of all of Glover's abilities too — it came with a screenplay and two short films to help add depth to the narrative. He even started dressing as the album's character in interviews, in order to further blur the lines between art and artist, virtual and real. Few rappers have gone as deep in creating an all-encompassing artistic product as Glover did for Because the Internet.
"I just wanna push things forward," Glover said in an interview at SXSW. "I feel like if you're not moving forward as an artist you're kind of wasting your time here."
If Glover's music is any indication, he considers himself a flawed man. But one thing he could never be accused of is wasting time. And the music world is beginning to notice.