One Parody Website Perfectly Lampoons Every Online Dating App You've Ever Been On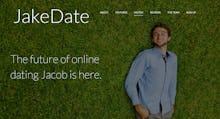 Ladies and gentlemen, meet Jacob Kleinfeldt of Waukegan, Illinois. If you're lucky, he might be your next boyfriend. 
Jacob is an oboe-playing, stick shift-driving, curry-making 29-year-old feminist (maybe?), and he's here to meet his One and Only on an app called JakeDate. Created by the clever Groupthink Group, JakeDate is the app of the future for the savvy online dater looking for a connection ... with a guy named Jake.
"By concentrating on Jacob and his quest for love, we can guarantee happiness for at least one person," the, ahem, company assured Mic in an email. 
The "app" incorporates an advanced matching algorithm, swiping, messaging and Jake's answers to 1,098 questions to ensure a perfect connection. "JakeDate isn't about harvesting clicks or swipes or engagements," co-founder Mel Kassel states on the site. "It's about getting 7 billion people in touch with Jacob."
If you think this sounds like a parody, you would be correct. Think of the JakeDate website as the Clickhole or the Onion of the online dating world. The website (for an app that clearly doesn't exist; sorry, folks) takes characteristics common to dating apps or websites — accessibility on multiple platforms, obscure and ridiculous questions, integration with other sites like Etsy and Goodreads, the seemingly all-important ability to swipe — and rolls them up into one great big app-inspired ball of satirical perfection.
It also strikes exactly the right tone with its focus on quasi-sophisticated characteristics like driving a stick shift and being a sort-of feminist and a Soderbergh fan. Not only does it mock the high-tech ways in which we attempt to find romance online; it also pokes fun at the kinds of people we encounter along the way (not to mention the bizarrely specific traits we end up judging them on).
The Groupthink Group is familiar with this kind of thing. The three people behind it (Kassel, Andy Boyle and Josh Nalven) met while writing and performing comedy in Chicago, and Boyle has done similar projects before. 
Of course, the site isn't just lampooning dating apps. It's also targeting the media hype that often comes along with new launches. The site's reviews section, for example, includes "praise" from notable news outlets. "The Jacob vertical will never be the same," the Verge supposedly crowed; "I fucked [Jacob]," the New York Times' Farhad Manjoo bragged. 
To wit: The trio sent out the following public relations "pitch" to at least one journalist, and the bracketed terms say it all: 
"This was never about thinking outside the box. It was about creating a second, handsomer box who's into Firefly," the group told Mic. "Let us know if you have any follow-ups or would like beta access to our VIP program, featuring Jacob's baby pictures and greatest fears!"