While Will and Kate Met Jay Z and Beyonce, Something Else Happened at the Nets Game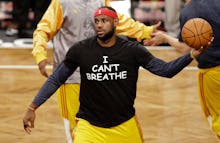 On Monday night, the world became transfixed by this image:
That's Prince William, duke of Cambridge, and Kate Middleton, duchess of Cambridge, meeting Jay Z and Beyoncé at the Brooklyn Nets game. And predictably, Twitter and the celebrity blogosphere went wild.
Except something far more important also happened Monday night. While the world watched the royal family, NBA superstar LeBron James joined the growing chorus of major American athletes showing their support for the growing movement of Americans speaking out against racial discrimination by donning a T-shirt emblazoned with the words "I Can't Breathe" during warmups.
King James also spoke briefly with a reporter during the pregame warm-up while wearing the shirt:
James' shirt is a tribute to Eric Garner, the Staten Island, New York, man who died after being placed in a chokehold by Officer Daniel Pantaleo, and the grand jury's non-indictment of his killer. Garner's last words were "I can't breathe." This decision, along with the recent non-indictment in Ferguson, Missouri, has led to a chorus of outcry and string of protests around the country and the world. 
During Monday night's warm-ups, James was also joined by teammate Kyrie Irving and Brooklyn Nets star Deron Williams:
Neither James, Irving nor Williams are the first to make this powerful gesture — Chicago Bulls star Derrick Rose wore a similar shirt in Saturday's game and in the NFL, Detroit Lions running back Reggie Bush was spotted in one before Sunday's game — but they are among the biggest stars to use their platform to take a stand in this important conversation.
This is especially true of James, who is arguably the sport's biggest star and has 7.9 million Instagram followers, 16.8 million Twitter followers and 22.1 million Facebook fans. While some have lambasted professional athletes for taking on political and social issues, the mere fact that someone as high profile as King James is engaging in this conversation could be a major step in getting enough Americans talking in a way that leads to meaningful change. 
For now at least, NBA commissioner Adam Silver is allowing the players to wear the shirts:
One can only hope that Silver won't change his mind and stifle the important message these athletes are sharing.
The scene from outside the Barclay's Center looked like this, as protesters staged a die-in in support of Garner: 
Meanwhile, the rest of the world got sidetracked by this: 
h/t Bleacher Report