Kim Kardashian's Biggest Insecurity Is the One You'd Least Expect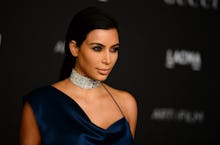 The world will not soon forget how America's most infamous reality star bared all in an explosive cover shoot for Paper magazine, one that expressly sought to "break the Internet." Now, just one month later, Kim Kardashian is baring a bit of her soul. 
In an interview for Elle UK, the new mother opened up about her life long before the cameras started following her. In the process, Kardashian admitted she hasn't always been secure with how she looks. It underscores a sad reality: Even women consistently listed among the world's most beautiful suffer from the pressure created by unrelenting, generally unattainable societal beauty standards. 
"It's taken me a long time to be happy with my body and for my confidence to grow to what it is today," she told Elle UK. "I grew up when the body to have was the tall, slim, supermodel one, like Cindy Crawford's. No one looked like me."
Kardashian said she's had a fuller figure for years, dating back to her adolescence, and shrugged off (the now recycled) claims that she's had butt implants. But during her formative years, she wasn't such a fan of her famous curves. Indeed, she says it took a letter from her father, who died of cancer in 2003, to help her move towards accepting herself. 
"I was unhappy with my body — I developed really early. Every night I'd sit in the bath and cry, and pray my boobs would stop growing," she tole Elle UK. "He told me that I had a body not many girls have, that later it would lead to attention from men, but that the most important thing was that I was a wonderful girl and I had to understand my self-worth."
In the years since, she's been an ubiquitous, if not polarizing, figure in popular culture. Whether it's her highly public Hollywood lifestyle or her short (and allegedly staged) marriage to NBA player Kris Humphries, it's hard for many people to be sympathetic towards anyone at her level of notoriety. 
But the constant attention comes with a price — and forces her to constantly think about how her body will be scrutinized in public.
Kardashian said she's hesitant about going outside in a bikini on a sunny day, because she knows the paparazzi may capture what most would consider flaws. "There are paparazzi everywhere, that's a fact, so if I go out in bright sunlight, all my cellulite will be lit up and visible," she said in the interview. "If it's overcast, you can't see it. I know it's there, but you won't." 
And while going through pregnancy, one that doctors told her would never happen, Kardashian wasn't prepared for body changes and added weight gain — an experience that forced her to confront her insecurities in a different way. 
"After five months, I swore I'd never get pregnant again. I got so huge and it felt like someone had taken over my body," she told Elle UK. "Sometimes, I'd be sitting there, nearly 200 lbs., crying and swearing this will never happen again, and sometimes I'd actually be laughing about it. I'd think God was doing this for a reason. He was saying, 'Kim, you think you're so hot, but look what I can do to you.'
"And then as soon as North was just a few months old, I just wanted to get pregnant again."
But despite the self-consciousness about her body, Kardashian said she's learned to embrace her figure and worry less about what the public may think about her. 
"It's good to break the mold and recreate one. I'm an Armenian girl, I have shape, and it turned out people liked that," she said in the interview. "That makes me feel good about myself and about other women for being so supportive. I am a confident woman, but I didn't just arrive confident – it has built over the years, and that is a big part of who I am now."
Kardashian's revelation is actually just the latest of several celebrity interviews that have demonstrated the unrealistic standards all women are held to. These standards dictate how women should look, rather than affirming that there's health and beauty with every shape and size. Just recently, for example, Keira Knightley shared untouched topless photos in an attempt to highlight her own struggles with Hollywood's cult of beauty. 
The fact that more and more high profile women are coming forward is at the very least helping to further these types of conversations. Ultimately, the more open celebrities are about their own struggles, the harder it will be to ignore the inherently harmful messages we too often perpetuate about women's bodies.
h/t BuzzFeed