17 Songs That Redefined How We Love in 2014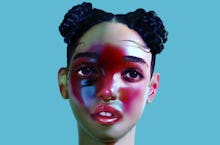 This was the year that Sam Smith showed us what same sex love sounds like — exactly like heterosexual love. This was the year that FKA twigs showed how weird and beautiful sex can be. This was the year Ingrid Michaelson flipped the script on gender stereotypes. This was the year our love songs caught up with the way we love.
Through the past year, America's movement to legalize gay marriage has made major gains. At the same time, women's reproductive rights were severely threatened. Through it all, our music has responded and pushed the conversation forward by representing all sides of modern love in a more realistic way. Songs in 2014 were about self-love, about acceptance of all walks of life and of being open about who you love, regardless of what society may think.
In 2014, music reflected a whole new — and often brighter — reality for how men and women think about love and politics. Here are 17 love songs that pushed the envelope in important and necessary ways in 2014:
1. Mary Lambert showed that when you love yourself, your "Secrets" don't matter.
"She Keeps Me Warm," based off her hook for Macklemore's "Same Love," was inescapable last year. But where the former found Lambert openly expressing her love for a partner, "Secrets" is about loving and embracing yourself, no matter your quirks.
The song touches on Lambert's own hardships — from struggling with her faith and coming out as a lesbian at 17, to suffering repeated sexual abuse as a child and later as a teenager, to living with bipolar disorder. But getting through life means owning your experiences, and here Lambert embraces all parts of herself. The buoyant chorus cannot be denied: "I don't care if the world knows what my secrets are / So what?"
2. Meghan Trainor reminded us that everyone is perfect just the way they are on "All About That Bass."
The doo-wop banger came out of practically nowhere in mid-2014, promptly capturing hearts and ears with a message of body positivity and embracing your curves. 
The song also sparked a mini-controversy from those who took issue with Trainor calling out the "skinny bitches." But Trainor is committed to accepting everyone. In response to the backlash, she told Billboard, "I know even you skinny girls struggle. That's exactly how I feel."
3. FKA twigs demonstrated that loving someone means letting them see us with the "Lights On."
Love's never sounded this sexy and strange. Though much of her full-length debut, LP1, explores themes of yearning and love lost, the Londoner also lets herself be vulnerable, open and hopeful. On "Lights On," she softly chants, "When I trust you we can do it with the lights on." 
"That's a metaphor for letting certain people see the different, ugly sides of you that others won't be able to see," she told Pitchfork.
Twigs isn't a squeaky-clean pop star like Taylor Swift or a twerking queen like Nicki Minaj in "Anaconda." Her voice is otherworldly and unsettling at times, and she uses her dancing as a tool to tell a story about the meaning of sexuality. It's liberating to hear a pop star reminding us of how freeing it is to be that candid with someone, even if it looks less than perfect.
4. Ariana Grande found that life is so much better once you "Break Free" from toxic love.
Grande had no shortage of hits this year, and when she wasn't trying to prove that bad girls do it better, she showed she's the queen of knowing her self-worth and kicking dead-weight boyfriends to the curb. On "Problem," she feels life ease up once she ditches her ex, but "Break Free" is ultimately a more empowering breakup anthem. 
It's like Beyoncé's "Irreplaceable" meets Kelly Clarkson's "Since U Been Gone." Not all the lyrics make sense, but the way Grande explains what's about to happen to her soon-to-be-ex is clear — "This is the part where I say I don't want ya" — and one that reaffirms her, and her listeners', own power: "I'm stronger than I've been before / This is the part when I break free."
5. Against Me!'s Laura Jane Grace owned her identity in "Transgender Dysphoria Blues."
Punk rock legend Grace came out as transgender in 2012, and the title track off the Florida band's sixth studio album is her coming-out anthem. 
It's a heart-wrenching look into the struggle of wanting your outer self to reflect who you are inside: "Your tells are so obvious / Shoulders too broad for a girl," which can be painful to hear. But when Grace yells, "But we can't choose how we're made" against the rollicking, thrashing melody, it's life-giving and liberating.
6. Kendrick Lamar confirmed the power of radical self-love on "i."
The good kid, m.A.A.d city rapper was mostly silent following his 2012 breakthrough album, but he surprised everyone with his eclectic, joyous Isley Brothers-sampling song of self-love, "i." 
Lamar initially received flack from those who couldn't imagine the spitfire from Compton, California, rapping something as earnest and simple as "I love myself." But in a time when American people have to constantly remind the justice system that #BlackLivesMatter, its message of empowerment and black self-love has proven to be even more important and necessary.
7. Sam Smith sang of an unrequited male love on "Stay With Me."
The British pop star came out publicly as gay earlier this year and revealed that his sob-inducing hit was about an unrequited love for another man. 
"It's about a guy and that's what I wanted people to know — I want to be clear that that's what it's about," Smith told Fader, adding that he wanted to "make it a normality because [homosexuality] is a non-issue." 
That the song is about a one-night stand is made all the more powerful when we know it's between two men. In the Advocate, John Paul Brammer wrote about the special significance that knowledge held for him as a member of the gay community: "Here was a gay man singing about an experience gay men know so well: that hollow, needy feeling after a one-night stand. And, on top of that, straight people were listening to it and could understand it too."
8. Kacey Musgraves shook up mainstream country with "Follow Your Arrow."
After winning Song Of the Year at this year's Country Music Awards, Musgraves had one question for the audience: "Do you guys realize what this means for country music?" 
Her song has sparked controversy, with Musgraves singing about same sex love ("Kiss lots of boys / Or kiss lots of girls / if that's what you're into") and lighting up a joint ("or don't / Just follow your arrow / wherever it points"). 
When asked in an interview last year about how often country music acknowledges the gay community, Musgraves said, "It never happens and I'm sick of it. It's ridiculous. Whether or not you agree with gay marriage or the fact that people don't choose to be gay, we share the same emotions, needs and wants. I just think that everyone should be included in that. It's definitely time." 
Thanks to Musgraves, country music is finally getting a little more accepting.
9. Ingrid Michaelson bent gender stereotypes on "Girls Chase Boys."
Michaelson wrote her catchy song with the intention of showing that "no matter who or how we love, we are all the same." With the accompanying video, Michaelson said she aimed to take the song a "step further," flipping stereotypical gender roles. 
In a Facebook note with the video, she wrote: "Girls don't exclusively chase boys. We all know this! We all chase each other and in the end we are all chasing after the same thing: love." Love doesn't discriminate, and Michaelson's here to remind us.
10. ILoveMakonnen revealed that rap has room for the super sensitive on "Sarah."
Better known for his weekday party anthem "Club Going Up On A Tuesday" that caught the attention of everyone from Drake (who remixed the song) to Miley Cyrus, 25-year-old Atlanta-bred Makonnen Sheran is one of the most sensitive rappers in the game.
On "Sarah," Makonnen epitomizes what it means to be a vulnerable rapper. That's hardly the norm. In fact, even now, in the post-808s and Heartbreak age (and the age of emo Drake), it's surprising to hear a rapper share his lovey-dovey feelings so plainly. Machismo in rap is so deeply ingrained as a part of the culture, the naked adoration for his girl feels almost downright rebellious. And he's all the more loveable for it.
11. Chromeo's "Over Your Shoulder" showed that when you really love someone, size doesn't matter.
Chromeo were the sweet, goofy guys in class whose mission was to get you to smile, so it's no wonder they're completely charming on the first single off their fourth album, White Women. It's a deliciously playful, slightly naughty version of "All About That Bass," with more disco and less doo-wop. 
Like Trainor, the Canadian duo champion women of all shapes and sizes and assure them of their desirability: "It's those little imperfections that make beauty in my eyes." A little crude, yes. But their message of self-love is an important one: "And you worry about your size / It's nonsense / It's not a contest."
12. St. Vincent proved on "I Prefer Your Love" that the best love is a family's love.
St. Vincent's Annie Clark wrote this song about her mother, after her mother had a brush with serious illness. "Everything good in me is because of you / It's true," she assures her. Clark is haunting in her honesty ("I prefer your love to Jesus"), and while the song's intro is reminiscent of Madonna's "Like A Prayer," it evolves into a meditative, almost transcendent account of her love. 
Clark is vulnerable and child-like ("Little baby on your knees 'cause the world has got you down"). She explores the deep, transformative effects we can have on another person, and the incomparable feeling of security and affection of a mother. She's thankful, appreciative and terrified at the same time. When she wonders out loud, "what will become / of your little one?" it's heartbreakingly vulnerable.
13. Le1f flipped the script on pick-up songs with the sexy "Sup."
Le1f is one of the few gay men out in the rap scene and has never shied away from talking about it in his material. And because he's such a rare voice in hip-hop, hearing a flirtatious and sexy joint like "Sup" feels radical and special. "I winked at him once / just to put butterflies up in his gut," he raps in a syrupy flow. "Let me get at that tapioca bubble butt."
The New Yorker has been reliably delivering some of the strongest flows in hip-hop over the past few years, and this year it felt like he was finally given some well-deserved shine — perhaps helped a little by the controversy over how Macklemore's "Thrift Shop" seemed to have lifted the beat from his breakout song, "Wut." Soon, though, he may be as famous in his own right.
14. Tinashe demonstrated that girls can be just as filthy as the guys on "2 On."
Who says guys get to lay claim to all the stoner love anthems? The Los Angeles R&B princess had one of this year's sexiest come-on songs, thanks in part to a hynpotic production by DJ Mustard. 
It's rare to hear a woman owning drinking, smoking, partying and generally turning-up the way Tinashe does — while knowing exactly what she wants: "Give me all that you got now." She lays it all out there for her love interest and confidently assures him to trust her because that's what love is about: "If you roll with me, then you will be winning now."
15. Swift told us she'll date whomever she damn well pleases on "Blank Space."
Whether you liked it or not, 2014 was Swift's year. Fans and haters alike were exposed to the news of her move to New York, the appropriateness post-workout attire and about how Lena Dunham was the source of her "feminist awakening." 
But while "Shake It Off" was a smart first single, "Blank Space" is where the new Swift really shines. She flips the script on the sexist, unfair accusations and media obsession with her love life, and it's never sounded so affirming: "Baby, I'm a nightmare dressed like a daydream."
16. Mary J. Blige confronted domestic abuse on "Whole Damn Year."
"It took a whole damn year to repair my body," Blige sings. "Gonna take a long, long year for me to trust somebody / It's been a bad five years." 
Like a punch to the gut, music's rawest diva paints the picture of a woman putting herself back together after suffering domestic abuse by a lover. The song finds Blige telling her new partner why she's not quite ready for physical intimacy. Watching her parse through her experience is heartbreaking.
Blige's power has always been in her heart, vulnerability and raw emotion. When she decided to pack it all up to London earlier this year to record, she found herself again. "I needed to do it for myself, to free myself because no one else was gonna free me," Blige told NPR. The result is the strongest album she's put out in years, and one of her most gut-wrenching, honest looks at love yet.
17. Beyoncé discovered the power that comes with taking that "Ring Off." 
No, "Ring Off" is not some sign of impending doom in Beyoncé and Jay Z's marriage, though she surely knew that's what everyone would think.
Dedicated to her mother in the wake of her 2011 divorce from Mathew Knowles, the song brilliantly turns "Single Ladies" upside down. Where putting on the ring was once the goal — to be secure and committed — now taking off the ring is the powerful act. "Oh, now the fun begins," Bey assures us.
In another stroke of genius, she refers to her most joyous song, "Love On Top," urging us to put our own self-love first. It's not always the easiest thing. But you won't regret giving yourself a chance to be happy: "Letting go is never the end / Mama, we can love again / This is where freedom begins."