Watch the Beautiful First Trailer for 'The Little Prince'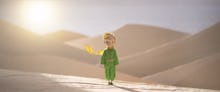 The Little Prince is coming to the silver screen. 
Antoine de Saint-Exupéry's beloved story has been transformed into a new CGI/stop-motion movie, and the results look incredible: 
One of France's most famous titles, The Little Prince describes the story of a pilot who crash-lands in a desert and meets a mysterious young prince who has fallen to Earth from a small asteroid. The story is philosophical in nature, as the two characters discuss questions about life and remark on the oddities of the adult world. 
Though it's often described as a children's book, one of the many beautiful things about the story is its universal relevance; adults can appreciate it, too, often differently than they did as children.  
"One sees clearly only with the heart. Anything essential is invisible to the eyes."  
There are two versions of the film planned — one in French and one in English. The trailer above is in French, but if you can't speak French or didn't pay enough attention in school growing up, here's a rough translation from Reddit: 
Old Man: "Oh, oh! I'm here! Up here! Good evening!"
Girl: "Once upon a time, [there was] a little prince who needed a friend."
Old Man: "I've flown almost everywhere in the world, until something miraculous happened."
Little Prince: "Please, draw me a sheep."
Old Man: "I've always wanted to find someone to share my story with, but I think this world has become too adult. It's only the beginning of the story!"
The film will be directed by Mark Osborne, who helmed The Spongebob Squarepants Movie and Kung Fu Panda. The English voice cast includes Mackenzie Foy, Rachel McAdams, James Franco, Marion Cotillard, Benicio Del Toro and Ricky Gervais, according to Daily Life.
It's set for release in France on Oct. 7, 2015, and in the U.S. at an unspecified date in 2015.