This Woman Made a Boat Shaped Like Her Vagina — and Was Arrested for It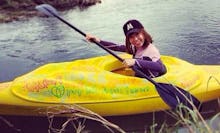 Megumi Igarashi wants to reclaim the pussy.
Igarashi, who goes by Rokudenashiko (meaning "good-for-nothing girl"), is an artist best known for attempting to make art inspired by her own vagina. Unfortunately for Rokudenashiko, in Japan, this can quite literally land you in jail, as evidenced by the fact that the artist was arrested for a second time last week for making and distributing "3-D obscene data" made from a mould of her vagina. 
She was arrested earlier in July on the same "obscenity" charges. Rokudenashiko allegedly now has twice distributed this data to investors who crowdfunded her campaign to build her own "pussy boat." 
The boat, technically a kayak designed to match the mould of her pussy, is one of several other vagina-themed projects Rokudenashiko has undertaken in an attempt to demystify the female genitalia. Talking about the vagina is taboo in Japan, and the current obscenity laws, the Guardian states, "forbid the depiction of actual genitalia, which usually appear censored or pixelated in images and videos." Besides being absurd, these obscenity laws exist in a blatant double-standard: While they deem female genitalia obscene, Japan celebrates male genitalia annually with its "penis festival."
In her crowdfunding video, Rokudenashiko explains that she began making this art because she had no idea what a pussy looked like, in large part due to the societal stigma of associated with women's private parts: "Pussy has been such a taboo. ... Pussy has been thought to be obscene because it's been overly hidden, although it's just a part of a woman's body."
This is absolutely a feminist act. Rokudenashiko is fighting through her art to take control of her own body. By making art of her lady parts, thereby making them less taboo and, as she says, "more casual and pop," she is normalizes womanhood. At the same time, her actions send a message to women that knowledge of their intimate parts gives them power over those parts. 
Rokudenashiko is still under arrest, and a Change.org petition has been created asking for her immediate release. Her case is yet another example of the ways political and cultural forces around the world continue to work together to suppress women and attempt to control women's bodies. 
Meanwhile, Rokudenashiko's supporters have taken to Twitter to express their frustration:
Even Jon Stewart discussed the sexist hypocrisy faced by Rokudenashiko in a segment earlier this year on the Daily Show:
The takeaway: Female bodies are historically, culturally taboo — genitalia especially. But through art, one can challenge societal norms and raise awareness about unjust, sexist laws that stigmatize the female body, just like Rokudenashiko continues to do.