Al Green Just Showed the World Exactly Why He's Still a Soul Music Legend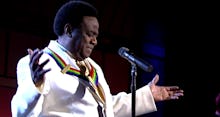 Al Green hasn't toured in years, and his most recent album is six years old. He's been spending most of his time tending to the Baptist parish he's been leading for 40 years. Yet Green is still very much in control of his powers, which he proved when he performed Monday on the Late Show With David Letterman.
Earlier in the evening, Green was honored at the Kennedy Center in Washington D.C. President Barack Obama introduced him at the ceremony, which also recognized Tom Hanks, Sting, Lily Tomlin and Patricia McBride: "For the peace he found and the soul he has shared with all of us ... tonight we honor the Reverend Al Green."
After the ceremony, Green stopped by the Late Show to sing two of his biggest hits "Tired Of Being Alone" and "Let's Stay Together." His voice has weathered with time, but he still has a startling vocal range and the same incredible charisma. His joy was evident in the performance, and for good reason. 
"I had to work for everything I got," he told PBS after the Kennedy Center honor, which will air Dec. 30 on PBS. "I had to, you know, knuckle down and work for it. That's the way they made me do it, so to be getting this after singing for 40 years, you know I'm happy and amazed about it." 
His expressive Late Show performance showcased the uplifting power of soul at its very best, evident in the way the audience clapped and sang along.
Green is one of music's most talented and dedicated performers. Now with his honor at the Kennedy Center and another stunning performance in the vaults, his legacy is even more assured.