These Protesters Had the Best Response to a Homophobic Burger King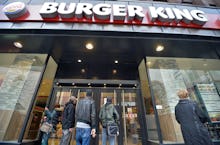 Protesters took a Burger King in Spain by storm after a security guard asked a gay couple to leave the restaurant because they were kissing. One week after the incident, nearly 100 people challenged the restaurant to live up to its motto of "Be Your Way" by staging a "mass kissing protest."
On Nov. 30, a week after the couple was kicked out of the restaurant, same-sex pairs publicly kissing flooded the Burger King at the Plaza de los Cubos in Madrid. The pairs protested homophobia by kissing just as the couple that was kicked out had done.
LGBT rights organization Arcópli alerted the protesters to the incident, claiming a married man, who was eating at the restaurant with his children, complained to the restaurant's management that the men kissing was bothering him. According to reports from the Spanish news site Local, "Despite other diners urging [the couple] not to leave, the couple finally left, angry and hurt."
Although Burger King admits that the incident did in fact happen, the company stressed that it was "an isolated incident and is not reflective of Burger King Corporation's long history of dedication to diversity and inclusion, which includes policies and benefits that support LGBT employees," Burger King director of communications and public affairs Bryson W. Thornton told Mic in an email. Thornton also stressed that the company has "a zero-tolerance policy for discrimination of any kind" and had immediately addressed the incident.
The fast-food restaurant's workers' reactions at the kiss-in protest confirmed this sentiment from the company. The Spanish news site El Pais reports that the employees applauded with the demonstrators.  
And while these types of attacks on the LGBT community aren't rare, the reactions from the demonstrators and employees are reflective of Spain's culture. Spain ranked No. 1 in a list of the world's most gay-friendly countries in 2013, and was the third country in the world to approve gay marriage nationwide in 2005.
Clearly tensions remain even in the most gay-friendly places. While it's unfortunate that an incident happened in the first place, cheers to the protesters for making a stand to make sure that everyone really can be their way.