One Video Reveals the True Danger of Anti-Vaccine Hysteria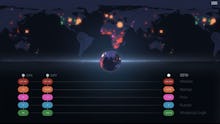 Need a visual reminder of just how damaging anti-vaccine hysteria can be? This should do the trick.
A new video created by Good magazine plots the global locations of outbreaks of vaccine-preventable diseases between 2008 and 2014 using bright, pulsating blobs. Using data from the Council on Foreign Relations, the video tracks the appearance of measles, mumps, rubella, polio and whooping cough, all of which are easily preventable through proper vaccination.
As time progresses, something unexpected happens: The frequency and intensity of the blobs increases in places that have access to vaccines. In the United States, for example, the green spots, which are color-coded to represent whooping cough, swell enormously. 
The terrifying conclusion: Cases of vaccine-preventable diseases increased by 6,000% in North America. Throughout the rest of the world, meanwhile, the number of cases during the same period decreased by 57%. 
The raw numbers tell the story: In 2008, there were 923 outbreaks in North America. In 2014, that number skyrocketed to 58,051. In 2008, Australia didn't have a single case of preventable outbreaks; by 2014, it had 2,614 cases of vaccine-preventable outbreaks. In Asia, by comparison, that number fell from 131,909 in 2008 to 44,506 in 2014.
As Nicole Gregory notes in the story accompanying the video, some of the outbreaks are due to attacks on health care workers. In Pakistan, for example, polio vaccination workers have been attacked or killed by the Taliban; as a result, Pakistan has reported 202 cases of polio this year already.
But in more developed parts of the world, this isn't the case. Yet the numbers of outbreaks are still skyrocketing. In the United States, whooping cough — which the Centers for Disease Control and Prevention describes as a "violent and rapid coughing, over and over, until the air is gone from the lungs and you are forced to inhale with a loud 'whooping' sound" — has been a problem. According to the CDC, there were 48,277 reported cases and 20 related deaths in 2012 alone; this makes it the highest number of reported cases since 1955. 
So what's happening? You guessed it: anti-vaccination hysteria.
Outbreaks have been particularly bad in California, and they've been largely fueled by parents refusing to vaccinate their children. According to a 2013 study published in Pediatrics, which looked at the state's 2010 outbreak, areas within "exemption clusters" (i.e., pockets of parents that refused vaccination for their children) were 2.5 times more likely to be in an area in which there were many reported cases of whooping cough. 
As Mic reported in November, a similarly scary uptick has been seen in the number of measles cases, and it can be traced back to a similar place. As a report in the New England Journal of Medicine argued, "[a]n increasing number of parents in this country are hesitant to have their children vaccinated. ... Such hesitancy has resulted in an accumulation of unvaccinated populations who can become infected and maintain transmission."
We have no excuse. There are many parts of the world that don't have proper access to vaccines, and the effects of those preventable diseases are devastating. More than 30 million children worldwide are unvaccinated, a status that often stems from lack of access or inadequate access to health care. Measles, for example, killed more than 500,000 children in 2003, according to UNICEF.
Places like the United States and Australia do have access to vaccines; however, parents are refusing to use them. And 2014 is expected to be another bad year for whooping cough in the United States; California is facing its worst outbreak in 70 years.
While the link between the anti-vaccination movement and the uptick in vaccine-preventable diseases isn't definitely causative, it's correlative enough to warrant suspicion, particularly given that many of these diseases had been laying low until recent years.
The rest of the world seems to be making strides against outbreaks of harmful diseases, but when it comes to our own backyards, we can't seem to get it right.
"I see the devastating effects of these infections which are vaccine-preventable," Dr. Jeffrey Bender, medical director in the Division of Infectious Diseases at Children's Hospital Los Angeles, told Good magazine.
"I have to tell [parents], 'Yes, your child's illness probably could have been prevented.' This is the hardest thing for young parents to hear. All of them tell me that they did not think it could happen to their child. But it does happen."