Julia Roberts' New Ads Are Exactly What the Fashion Industry Needs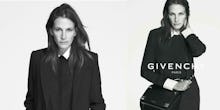 Wind machines, airbrushed makeup, hair extensions, miles of perfect, exposed skin — fashion ads for women usually end up as far away from the concept of "real women" as possible.
But today, the fashion world was hit with a pleasant surprise: Julia Roberts, sans visible makeup, in a black tuxedo, is the newest face of Givenchy. In the stark black and white photos, shot by Mert Alas and Marcus Piggott, the 47-year-old Roberts' hair is naturally mussed, her face is bare and the clothes she is supposed to be selling are (miraculously!) on her body. In other words, the photos are the polar opposite of the excessively sexy ads debuted by Alexander Wang last week.
Ads like Givenchy's shouldn't be revolutionary, but the Internet reaction to the Spring/Summer 2015 campaign indicates otherwise. Hollywood actresses scoring fashion contracts isn't rare, but those actresses being over the age of, oh, 30 definitely is. Having those actresses pose without all the glamorous trappings typical to fashion shoots? Even rarer.
"Sometimes you shoot someone who's so popular, you try to make it glam, but I really wanted her the way she arrived: black jacket, men's shirt, jeans, which is really what we have in common," Givenchy designer Riccardo Tisci told Style.com. "No hair, no makeup."
Roberts told Yahoo Style of the new ads, "I think they're very cool images, and I think all the clothes would have been things I would have chosen for myself." That was exactly Tisci's point — that Roberts, already cemented in our minds as America's sweetheart, look like the real woman she is, from her clean face down to her straightforward clothing.
The concept seems simple, but most fashion brands insist on showing women as anything but. Designer Alexander Wang raised more than a few eyebrows with denim ads that depicted a slicked-down, made-up model barely wearing jeans at all, much less any other clothes. "I wanted an image that would provoke," Wang told Women's Wear Daily.
Instead of provoking, Wang's in-your-face images had most of the Internet shrugging and asking, "Why?" As the Hollywood Reporter's Pret-a-Reporter pointed out, the irony of denim ads featuring pantless models felt tired rather than shocking. And if there was anyone who found the nearly nude ads appealingly titillating, they weren't speaking up. 
These weren't images that made women want to buy clothes, nor were they images that reflected the women who might wear the jeans. In short, like so many other fashion ads, they weren't really made with most of us in mind at all. It's been shown time and time again that women don't actually want to see sexed-up women in their ads (and in fact, have alternative ideas of their own). And yet brands like Wang continue to insist on it.
Givenchy's new campaign, on the other hand, is a breath of fresh air, no wind machine necessary. Yes, Roberts is still an A-list actress, not exactly your "average" American woman. Yes, she is white and slender and beautiful, fitting so many other fashion industry standards that ignore the diversity of American female shoppers. 
But left unprimped, Roberts' photos give the sense that we're inching closer to something like reality in fashion images. As Tisci told Style.com, "Of course, she's conscious of herself. When you're a well-known designer, you're paranoid about your looks. ... [But] she saw the first picture and she liked it, she said because 'I can see myself, my real self.'" 
A fashion ad featuring a woman's "real self"? That's downright revolutionary.