Want the Real Story of 2014? Listen to Its Music.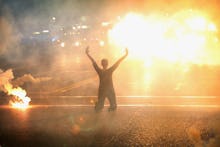 It's in years like this, when it seems like the world is coming apart at the seams, that people most need music to bring them together and show them the way forward. And though some feel our music has failed us, nothing could be further from the truth. If you want the real story of 2014, just listen to its music.
We heard songs that rose out of injustice — from arrests made in the Ferguson, Missouri, and protests to Nigerian hostages kidnapped overseas. We heard sounds that reminded us of World Cup victors, feminist heroes and beloved comedians who passed too soon. And throughout the year, there was still a part of us that refused to "let it go."
Here are the 19 biggest stories of the year, and the songs that defined them:
The Ebola virus becomes an international epidemic.
It was the virus that spurred worldwide panic. And while fear in the U.S. has since subsided, Ebola is still killing thousands overseas. According to the World Health Organization, Ebola has infected nearly 18,000 people in West Africa, but even that number is "vastly underestimated."
A number of Ebola relief efforts took form in song this year. The revival of Band Aid 30's "Do They Know It's Christmas?" raised millions of dollars just minutes after its release, but its mere existence was a major problem: It distanced Ebola sufferers even further, creating a "tone-deaf" statement about life in Africa that was endorsed by the likes of Ed Sheeran and One Direction. It wasn't truly the "relief" the world needed.
But the tunes coming out of West Africa this year offered real solace. "Africa Stop Ebola," a tasteful relief call released in November, provided the socially conscious lyrics that Band Aid 30 lacked. It blended languages spoken in a handful of countries affected by the epidemic, like Guinea, Liberia and Sierra Leone. It was written and performed by prominent West African musicians, like reggae star Tiken Jah Fakoly. Ultimately, it reminded listeners to be safe around others who have been infected. 
With its uplifting spirit and uptempo beat, "Africa Stop Ebola" is just one song out of many this year that advocated for proper Ebola awareness. And unlike many Americans' irrational fear about the virus, these songs provide an inspiring message: Knowledge is power.
Frozen is the highest-grossing animated film of all time.
Frozen's success was astounding. Released at the end of 2013, the film surpassed over $1 billion at the international box office this year. And its signature song, "Let It Go," led to over 1 million album sales in its second year on the market — truly a gift that just keeps on giving. 
Still, "Let It Go" became a powerful anthem especially for girls and women, which is a difficult feat for any wildly popular song to accomplish. The Disney hit was characterized by strong female leads, with Elsa as its "prince-less feminist cartoon hero," who sang about true independence through hardship. It was a song that made feminism accessible to a younger generation — and they clung tightly to it. 
The Ukrainian revolution sparks unrest.
Clashes in Kiev took a devastating turn in February. Several days of protesting pro-Russian forces resulted in one of the most violent events the city has ever seen — over 88 people were killed within 48 hours, and Kiev's Independence Square lit up in flames.
The setting is a haunting image, but some protest efforts captured the true spirit of a city before the destruction. Ukrainians turned to music for positivity in the midst of turmoil — and Pharrell Williams' "Happy" was the perfect fit. Arguably the most infectious and successful song of the year, "Happy" took on new meaning for protesters in Kiev, and they likened it to a yearning call for freedom. They weren't alone — the anthem also became an uplifting phenomenon in other countries, including France, Tunisia, Russia and the Philippines.
Kiev's uprising prompted music to offer a helping hand, one that Polish band Taraka also extended in light of the revolution. And out of conflict rose the sound of numerous international anthems testifying to the emotional toll of the crisis.
Terrorist organization Boko Haram in Nigeria kidnaps 276 female students.
In April, hundreds of Nigerian girls were abducted from their boarding school in the town of Chibok. The young women were forced into trucks by members of Nigerian Islamist group Boko Haram and stolen away into captivity. According to testimonies from those who had escaped, the young women were subject to a myriad of physical and psychological abuse, including rape, military labor and forced marriages. Outrage ensued internationally, and the #BringBackOurGirls hashtag became a viral movement. However, interest quickly waned — and the cause faded as so many hashtags do. 
But tweeting wasn't enough for singer Alicia Keys, who saw a deeper issue beneath #BringBackOurGirls. She penned "We Are Here," a track that melds numerous world conflicts with a call for peace. Keys urges awareness of international issues to the forefront for discussion: "Let's talk about Gaza / Let's talk about Israel / 'Cause right now it is real / Let's talk about Nigeria." 
Her words became a call to action, fueling a desire to show what fame can do when put to good use. The message behind "We Are Here" was further inspiration for Keys to launch her peace-project platform, appropriately titled with the same name.
"I hope my involvement can send a strong message that the global community has not forgotten about the Nigerian girls," Keys wrote in the Guardian. "[We Are Here] resonates with the way many of us feel at the moment: The world is out of balance and terrible brutality is coming at us all the time in our news feeds ... I know critics will say that people like me should stick to making records. But musicians are voters too. We are artists and we are human, alive to what is going on around us."
Maya Angelou passes away at 86.
The renowned poet, writer and civil rights activist died May 28 after battling heart problems. Angelou was an inspiration not just through her writing but also in her integrity of character. She was a model for all black writers to rise from forces of segregation and violence.
Angelou also left an indelible mark on hip-hop culture. She's been seen as the "godmother of American hip-hop," praised by the likes of Chris Rock, Dave Chappelle and Common, for whom she wrote a verse in 2011 (on "The Dreamer"). In the wake of her death, many prominent figures in hip-hop have recognized her influence on the music.
Kendrick Lamar is a perfect example. The outro for "Sing About Me, I'm Dying of Thirst," from good kid, m.A.A.d city, heavily features Angelou's voice in a closing prayer. But it's Lamar's recent single, "i," that really sounds like an Angelou poem reworked for a popular audience. It's a tune of ultimate self love from Lamar. After an opening monologue that declares "loving yourself first," he jumps in with the first verse: "I done been through a whole lot / Trial, tribulation, but I know God."
It's the kind of self love Angelou has always embraced in her art — the kind that's starting to run deep in hip-hop culture. It's only fitting that Lamar's lyrics are starkly similar to Angelou's final tweet, posted just days before her passing:
Aaron Ybarra opens fire at Seattle Pacific University, killing one student and wounding three others.
Ybarra, 26, was not a student at the school but went to campus June 5 with 75 rounds of ammunition, claiming he thought he was "gonna kill and injure more people."
Nineteen-year-old Paul Lee's death was mourned by the university. At the time of the shooting, filmmaker James Marcus Haney was staying with his brother, Turner, at the university and working on a music video for the British band Bear's Den. Turner, a close friend and hallmate of Lee's, listened to the band's track, "Elysium," over and over again upon hearing the news. He shared it with his hallmates and found in it the perfect tribute to Lee.
What resulted, in Haney's words, was a video that depicted "real friends, real teenagers experiencing something far too real." It's a heartbreaking reminder that they've happened far too often, even in this year alone. The video's poignancy transcends any campus setting in capturing the devastating reality about the fallout of school violence and the importance of community during tragedy.
The bodies of three Israeli teenagers are found in the West Bank.
Naftali Fraenkel, Eyal Yifrach and Gilad Shaar were on their way home from school in June when they were abducted. Weeks later, their bodies were discovered in a shallow grave close to the Palestinian city of Hebron. Their deaths sparked an even greater divide between Israel and Palestine, and air strikes in Gaza were fueled by figures like Israeli Prime Minister Benjamin Netanyahu, who believed that "Hamas was responsible."
Voices from both sides were angry — including two Palestinian singers named Sharim Anas Jaradat and Abu Kayed. After an attack by car crash in Jerusalem that resulted in the deaths of two children, Jaradat and Kayed sought to fight back in song:
"They [settlers in the West Bank] ran over our child two months ago, so we now reply back," read the translated lyrics. "Run over, run over the settlers."
It's a violent take, but music doesn't always advocate for peaceful protest. The controversial song is a manifestation of utter anger and frustration in one of the world's harshest conflicts.
"We don't feel guilty," the artists said when responding to criticism. "We are offering the message of a people, and this is the least we can offer in exchange for the sacrifices that the Palestinian people make." 
Germany wins the World Cup.
The final match in this year's World Cup was a defensive stalemate between Germany and Argentina. But after over 100 minutes of play — a time when the game seemed like it would result in a penalty shootout — Germany's Mario Götze scored the winning goal in extra time, and the Germans won their fourth World Cup.
But this year also marked the first time Germany won the World Cup as a unified nation — it was West Germany that had won the previous three titles, before the country was unified in 1990.
T. Andreas Bourani's hit "Auf Uns" ("To Us") became a popular anthem following the win, and it played across the country's radio stations and topped their Billboard charts. It's a refreshing alternative in light of Pitbull and Jennifer Lopez's "We Are One," which was this year's World Cup anthem. But "Auf Uns" highlights a similar sentiment, just in a German voice — there's always strength when uniting as one.
Michael Brown is shot and killed by Officer Darren Wilson in Ferguson, Missouri.
On Aug. 9 in a St. Louis suburb, the unarmed black 18-year-old was shot and killed by the white police officer. Brown's death immediately prompted unrest both in Ferguson, Missouri, and around the country. Protests erupted and unfurled, and issues of racial violence and police brutality were at the center of national media attention. Combined with a New York grand jury's recent decision not to indict the white police officer who killed Eric Garner, an unarmed black man, the legacy of Ferguson is only growing.
Brown's death also resulted in powerful responses in music. A slew of songs was released shortly after the news, like J. Cole's "Be Free," which went up on the rapper's SoundCloud page six days after the shooting. He dedicated the song to "every young black man murdered in America," cutting deep in his lyrics to reveal a truly raw and painful performance. J. Cole sings as if he, too, is dealing with the open and festering wound of racial violence.
"I pray that one day the world will be filled with peace and rid of injustice," he wrote on SoundCloud. "Only then will we all Be Free."
Most big names in hip-hop were also quick to vocalize their pain, using music as means for peaceful protest. Rapper the Game, alongside Rick Ross, 2 Chainz, Diddy, Fabolous, Wale and more came together for the "Don't Shoot" collaboration and aligned Brown's story with that of Trayvon Martin.
American journalist James Foley is killed by Islamic State militants.
Foley, a freelance journalist who had been missing since his 2012 abduction in Syria, was killed by IS militants in August. Since then, Steven Sotloff, David Haines, John Cantlie and Alan Henning have also been victims of IS killings, alongside other names who never made it in to the press.
After reading a heartbreaking letter from Foley to his family, U2's Bono saw the journalist's fleeting observations as a beautiful and painful reflection on the importance of family. 
"I realized," Bono told Rolling Stone, "that we will all be remembered, and we remember our loved ones, by the least profound moments. The simplest moments. In the letter [Foley] says to his brother, 'I remember playing werewolf in the dark with you.'"
"Iris (Hold Me Close)," a song off this year's surprise iTunes release Songs of Innocence, was rewritten to reflect Bono's feelings about Foley's death. Though the song is about his own late mother, it still offers a meditation as to how families cope with the loss of loved ones. 
Robin Williams passes at age 63.
The sudden death of the legendary comedian threw the world for a loop. From Mrs. Doubtfire to Sean Maguire in Good Will Hunting, Williams was a master player, a comical yet poignant entry into our cultural repertoire. 
Williams' passing sparked larger conversations on issues around addiction and depression, leaving many grappling with the gravity of his situation. One touching tribute captures Williams perfectly, though. Singer-songwriter Joseph Arthur penned and compiled highlights from the actor's most brilliant roles, setting his tune alongside clips of Williams through the decades.
It's only fitting to remember Williams' legacy through music, as some of his own best moments revolved around song.
Thousands protest government reform in Hong Kong.
When the Standing Committee of the National People's Conference announced proposed electoral reform at the end of August, students and activists began protesting outside Hong Kong government headquarters. Pro-democracy calls disrupted the city's financial district, which became known as #OccupyCentral. Protesters used umbrellas to shield themselves from tear-gas attacks by police, and hundreds were arrested during what many deemed the "Umbrella revolution."
One of the final arrests was that of Denise Ho, a "Canto-pop" singer who was a high-profile supporter of the movement. Ho came together with fellow singer Anthony Wong for Lin Xi's "Holding an Umbrella," a track written two days before it was performed at a rally. Although the melody is fairly simple, the lyrics reflect a deep commitment to speaking up for any important cause: "But at this very night / Nothing is more terrifying when / Silence prevails and words are not spoken." Although protests have ended, the song will continue as a memorable rally call for democracy.
In Mexico, 43 male students are kidnapped.
Dozens of young students gathered in Iguala in September to protest a conference held by Mayor José Luis Abarca's wife, Maria de los Angeles Pineda. The men were leaving the city when a conflict with police ensued. They were last seen being hauled into police vans, and are still missing or presumed dead. Soon after the abduction, the mayor and his wife fled after probable suspicion — both were found in Mexico City and arrested in November. As the Huffington Post puts it, the mystery of the lost men questioned the security of Mexico — a country overrun by "drug cartels, brutal behavior by state security forces and rampant corruption." 
Mexico's fragile state prompted many musicians, like José Carrisoza Jr., and his father, to compose corridos —  folk ballads that chronicle stories and oral histories of life in Mexico. They often deal with issues of oppression, and Carrisoza expressed that a corrido was ideal for the Iguala situation because it offers "word-of-mouth storytelling about the news." 
Same-sex marriage is legal in 35 states.
In October, the Supreme Court denied appeals from five states — Indiana, Oklahoma, Virginia, Utah and Wisconsin — looking to ban same-sex marriage. In the months that followed, same-sex marriage also became legal in a handful of other states, including West Virginia, South Carolina, Idaho and Wisconsin. 
And now that the majority of states allow gay marriage, it makes sense that LGBT-issues are at the forefront of musical genres, including the traditionally conservative country. In November, Kacey Musgraves won the Country Music Awards' Song of the Year for her progressive (and pot-loving) hit, "Follow Your Arrow." The song is a testament to country music's broader shift into hot-button social issues, falling in line with this year's push toward marriage equality.
"Whether or not you agree with gay marriage or the fact that people don't choose to be gay, we share the same emotions, needs and wants," Musgraves said in an interview last year. "I just think that everyone should be included in that. It's definitely time." And she couldn't be more right.
Malala Yousafzai becomes the youngest Nobel Peace Prize laureate.
In 2012, Yousafzai nearly died from bullet wounds after she was attacked on a bus in Pakistan. Now the 17-year-old activist is stronger than ever, fighting tirelessly for young women and children to have access to education. Yousafzai accepted the 2014 Novel Peace Prize in October alongside Kailash Satyarthi, another children's rights advocate from India. 
Yousafzai's story is an inspiring anthem for any woman — but it was especially inspiring for long-silent Sarah McLachlan. Although McLachlan hadn't released new material in over four years, she found Yousafzai to be the heroine for her single, "In Your Shoes." McLachlan had initially set out to write a song about bullying, but after hearing that Yousafzai had been shot by the Taliban, she discovered a deeper musical inspiration.
"Obviously, it was a perfect catalyst for me to finish that song," McLachlan said in an interview in past April. "We live in such a self-involved society, short-sighted society. And here's a girl ... with the strength of hundreds standing up for something she believes in and refusing to back down."
The Rosetta Spacecraft successfully lands on a comet.
After a 10-year mission, Rosetta's Philae lander made cosmic history when it touched down in November on the nucleus of Comet 67P. As Andrea Accomazzo, Rosetta flight operations director, put it: "We cannot be happier than we are now." 
It may be difficult to create a song about a comet, but luckily we don't have to. Scientists picked up on a mysterious "song" that was emitted by Comet 67P since landing the orbit, unable to be detected by the human ear. The song is produced as a result of oscillations in the comet's magnetic field and was increased 10,000x to a frequency that a human is able to register. 
This is exciting for scientists, as the comet's tune represents a new stage in understanding the deeper physics of space. A month later, scientists discovered that Mars was once more habitable than they'd ever thought.
Alaska, Oregon and Washington, D.C. legalize recreational marijuana.
The year was a big one for marijuana legalization. Alongside Colorado and Washington state, Oregon and Alaska became the next two states to allow recreational marijuana; D.C. allows it, too. And although a majority of the country supports legal weed, there are still many states that have yet to legalize and decriminalize it.
No one was happier than the original stoner, Afroman. "Because I Got High" was a huge stoner-hit that equated Afroman and his drug of choice with laziness and self destruction ("I was gonna go to class / Before I got high"). This year, he worked to dismantle that negative stereotype with his "Positive Remix." 
Now, in conjunction with pro-legalization groups like National Organization for the Reform of Marijuana Laws and Weedmaps, Afroman is educating listeners on the positive benefits of marijuana and making a strong case for legalization. He touches upon a handle of the "positives," from using it as an alcohol alternative to building new schools with the tax dollars it would create.
Beyoncé is the second-highest paid musician of 2014. 
After Apple's $3 billion acquisition of Beats Music earlier this year, it was official: Dr. Dre was going to be "hip-hop's first billionaire." He cashed in at $620 million, but Queen B was next in line as Forbes' second-highest artist earner at $113 million. She nearly doubled Taylor Swift's earnings, even after Swift pulled all her music from Spotify in an effort to boost album sales.
Beyoncé squashed the male competition and proved that it's been a monumental year for women in music. And given her reign over the last year, she shows no sign of stopping. Her recent single "7/11," which dropped as a surprise, captures the reason for her strong industry success. By stripping away fancy camera angles and filters in favor of DIY-video approach to filming a party in a hotel room with friends, Bey proves that great success isn't always about the next big acquisition — it's about relating music to real people.
A St. Louis County grand jury decides not to indict Wilson.
On Nov. 25, sadness and anger rang louder in Ferguson following the news that a grand jury had decided not to bring Wilson to court. More figures in the music community immediately stood up in protest, including rapper Killer Mike, who delivered a heartfelt monologue before performing with Run the Jewels on stage that night in Ferguson. "You motherfuckers got me today," he told the crowd in light of the news.
The grand jury decision and continued unrest spurred more music releases surrounding racial injustice, and hip-hop artists fueled the protests on songs like ASAP Ferg's "Talk It." The traditionally violent-sounding rapper took a serious side against police brutality, harkening back to NWA's protest rap: " We screamin' 'fuck the police' (fuck 'em) / Cause they don't give two shits about me." He delivers his anger with an appropriately calm sting — a fitting representation of the peaceful protest Brown's family urged.
While there's still a lot to digest following Ferguson, one thing is certain: Music isn't going to stay silent about it. And when there seems little hope for clarity, the protest songs that emerge from the rubble serve to navigate our confusion. That's what music does best — it helps us understand and it makes audible the things we might not otherwise have heard.