Ebola Survivor Destroys That Racist Viral Christmas Song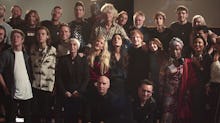 Some songs are best left unsung.
In November, charity supergroup Band Aid 30 released a holiday ballad about the ongoing Ebola virus outbreak in West Africa, a re-recording of the 1984 song "Do They Know It's Christmas?" This charitable monstrosity, despite raising $1.5 million, has one big problem: The jingle's lyrics — sung by One Direction, Sam Smith, Ed Sheeran and more alongside Bono — represent an appalling tone-deaf interpretation of what life is like in Africa. 
The song has been universally panned: Pitchfork called it "laughably out of touch." Al Jazeera America was more hostile, suggesting it conjured up racial stereotypes and a mythical Western conception of Africa.
Now, an Ebola survivor is speaking out: British nurse Will Pooley, who contracted the disease while responding to the crisis in Sierra Leone, where medical personnel are 100 times more likely as the general population to contract the deadly fever. 
"It's Africa, not another planet," Pooley told the Guardian:
"Stuff about 'Do They Know It's Christmas?' It's just like, actually people live normal lives here and do normal things. That sort of cultural ignorance is a bit cringeworthy. There's a lyric about 'death in every tear,' it's just a bit much."
Emeli Sandé, who sang on the track, expressed similar concerns last week with the BBC. Critics have agreed the lyrics "Where a kiss of love can kill you, and there's death in every tear" are terrible.
Songwriter Bob Geldof — who at one time described Ebola as a "particularly pernicious illness because it renders humans untouchable and that is sickening" — told the Telegraph he couldn't care less what critics thought and that dying Ebola victims were better off because of the song:
"Please. It's a pop song. Relax," [he said ...] before saying that critics of the song could "fuck off ... I couldn't give a toss ... If it's a pop song that can help ease the pain, the agony, if they can die with a little more dignity then, yeah, I'm there. It's pretty simple.
Remember, Geldof is supposed to be on the charity's side. So it's bizarre he'd respond with such naked hostility. Also, there is no one on the planet who wants "Do They Know It's Christmas?" to be the last thing they hear before dying.
Of course, Geldof doesn't speak for everyone involved with the video, but Al Jazeera America spoke to Africans, some of whom were actually writing doctoral theses. They, like Pooley, also disparaged the video. Nigerian human rights activist Chitra Nagarajan called it "white Western saviorism," and Kenyan policy analyst Abdullahi Halakhe called it "awful 30 years ago, and it's awful today." Robtel Neajai Pailey, a researcher at the School of Oriental and African Studies, argued on BBC Radio 4's Today that the "incredibly patronizing and problematic" song "reinforces stereotypes" and treats the entire continent "as unchanging and frozen in time."
Not coincidentally, there's a hint to the authors' worldview in the original version. As the A.V. Club pointed out, in the latest version Bono sings the terrible line "Tonight we're reaching out and touching you." As recently as 2004, Bono was singing "Tonight thank God it's them instead of you."
With lines like that, it would have been hard to distinguish from satire:
Meanwhile, Band Aid 30 hasn't provided clear information as to which charities are benefiting from the money raised, but the group has defended itself on its blog by citing the song's "halo effect" — whatever that means.