A New Superhero Is Battling Sexual Violence in the Most Kick-Ass Way Possible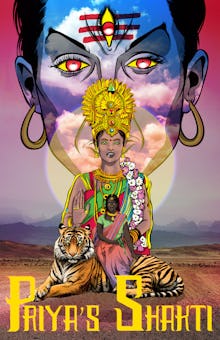 India's rape crisis has a new female face, but it's not what you think. 
A new comic book, Priya's Shakti, is making waves in India for its unconventional heroine: a rape victim-turned-superhero who fights gendered violence with the help of the Hindu goddess Parvati. 
According to the comic's website, the storyline focuses on Priya, a mortal woman who experienced a brutal rape and ensuing social stigma and isolation. Inspired by Parvati, Priya breaks her silence and reveals her assault, encouraging people around the world to take action against sexual violence.
Ram Devineni, one of Priya's Shakti's creators, was inspired to create the powerful comic following the tragic and highly publicized Delhi bus gang rape in December 2012. "A cultural shift had to happen, especially views toward the role of women in modern society. Deep-rooted patriarchal views needed to be challenged," he told Mic. 
"Talking with several rape survivors, I realized how difficult it was for them to seek justice and how much their lives were constantly under threat after they reported the crime," Devineni said. "Their family, local community and even the police discouraged them from pursuing criminal action against their attackers. The burden of shame was placed on the victim and not the perpetrators. This created a level of impunity among men to commit more rapes."
This harsh reality is reflected in the comic. After Priya tells her family of her rape, she is shamed and thrown out. But in Priya's world, she is able to cast off the patriarchal and misogynistic shackles that confine many survivors in real life.
This is much more than a comic. Literally. Priya's Shakti is a self-described "innovative social impact multimedia project" that takes many forms: digital download (available here), hard copy and — in an innovative, ground-breaking twist — augmented reality, a relatively new technology typically used in marketing and advertising.
"When users scan the AR [code] either on the printed comic book or on their computer screen, literally animation, videos and other interactive elements pop out of the page," Devineni told Mic. 
The augmented reality content features real-life stories and voices of Indian women who have survived sexual assault. 
"The content provides a deeper understanding of the issue of sexual violence and takes the readers beyond the story of the comic book," he said. "I was trying to figure out how to show the struggles of real survivors of rape in the comic book, and augmented reality allowed them to tell their stories in their own voices."
What's next? According to Devineni, the comic book is just the beginning. 
"We hope to paint hundreds of augmented reality murals all over India based on the comic book," he said. "We want Priya to be a new superhero that fights sexual violence around the world, [a figure whom] girls and boys can identify with. Our comic book is part of a large movement to address gender-based sexual violence, and the comic book is an important element in it. We plan to continue the series, and will have Priya and the Goddess Parvati address other social issues."
Priya's impact could be huge. In India, one rape is reported every 21 minutes, according to CNN. But just like most epidemics, the ongoing problem of rape culture in India needs to be tackled at its source: the promulgation of patriarchal norms that devalue women. Inventive approaches that leverage popular culture, like Priya's Shakti, have a real shot at transforming attitudes, particularly among today's youth — the guardians of social, political and cultural progress. 
Just imagine the positive impact one comic book could have on future generations.