It Was a Great Year for Asian-American Women on Television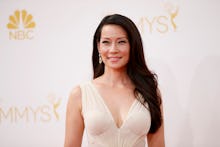 We're finally getting past all those geisha and ninja stereotypes.
Asian-American women, and women in general, have long faced the woes of horrible storylines or just plain missing from shows. This messy writing or lack of diversity on the small screen stems from the absence of minorities and women in the writers' room. 
But in 2014, we've seen some inspiring portrayals of Asian-American women on television that have brought dimension to ladies who are often turned into flat tropes. We still need more of these types of characters, but thankfully we're inching toward better representation.
Headliners: Lucy Liu proves that Asian-American women can be leading ladies without being a stereotype. Liu is one of the most recognizable Asian-American actresses in Hollywood, known for her roles on Charlie's Angels and Kill Bill: Vol. 1, two movies that tokenized her race. But Liu currently co-stars as Dr. Joan Watson in Elementary, a modern take on Sherlock Holmes, alongside Jonny Lee Miller.
Watson is incredibly intelligent and capable, but not without flaws. She was once a surgeon, but accidentally killed a patient. Unable to trust herself, she let her medical license expire, and eventually becomes Holmes' detective apprentice. She's sexy, she's smart, she makes mistakes — in short, she's a human being.
She has her demons, but she doesn't let anyone make her decisions for her. She's an interesting main character who just so happens to be Asian.
More than just casting: Television is also making progress with writing storylines centering around Asian culture. MTV's Teen Wolf, a teenage-supernatural drama with a dark side, may be the best example. This year, the series introduced Kira Yukimura and her family.
Portrayed by Arden Cho, Kira shows that there are many ways to be Asian — in her case, Korean-Japanese. She's also a kitsune, a mythical fox spirit with the ability to absorb electricity, plus some deadly skills with a katana. 
Furthermore, Kira's powers and one main storyline of Teen Wolf's third season are deeply rooted in the Japanese internment camps of the 1940s, a smear on America's history that's often overlooked. The mistreatment of Japanese people during World War II is a part of many Asian-Americans' identity and experience in the United States. Integrating this part of the past into the show is an effort to bring underrepresented history to wider audiences.
Funny and flirty: Asian-American women can be sexual and go on tons of dates. The Mindy Project features Mindy Kaling as Dr. Mindy Lahiri, a spunky OB-GYN who makes her way through a cavalcade of flings before settling down with fellow doctor Danny Castellano in the show's latest season. While Kaling is Indian-American and might not have the same experiences as a Korean-American, she still falls under the Asian-American umbrella.
The Fox comedy is filled with sex and intimacy, showing that Asian-American women can be vocal when it comes to the bedroom. Mindy knows what she wants, when she wants it and if she doesn't want it (as in the episode about anal sex).
The Mindy Project also flips the script on the typical dating storyline. Usually it's a white protagonist who goes on dates with a pretty homogeneously white lineup, until bam, there's one diverse hottie who "makes up" for being the only one (ahem, Girls). In Kaling's show, we see her dating a crop of primarily white dudes, showing that she's as much in control of her dating destiny as anyone else. 
Room to grow: The one-dimensional Asian-American character on television shows still exists — take a look at Awkward's Ming (Jessica Lu) or Scorpion's Happy Quinn (Jadyn Wong). Visibility is essential, but stereotyped writing can be dangerous. Fortunately, the Dr. Joan Watsons and Kira Yukimuras are making important progress toward more diverse actors getting multifaceted characters to play.
Other disenfranchised communities are also making their way to the small screen. For these minorities, including Asian-American women, increased visibility might seem slow. But while more, and more accurate, depictions should be a given, we can celebrate what we do have — and continue to fight for diverse inclusion in the shows we love.