This Is the Latest Bizarre Male Fashion Trend — Just in Time for the Holidays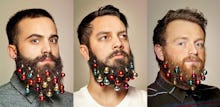 2014 truly was the year of the beard. From the strangely amazing trend that was "flower beards" to the realization we may have reached "peak beard," fancy facial follicles were all the rage. So what better way to cap that off than with a holiday-themed beard trend that's not only amazing, but is for a great cause too? 
Meet beard baubles:
Devised by London advertising agency Grey, beard baubles are the brain child of designers Mike Kennedy and Pauline Ashford. Every year, the agency sends all of its clients and friends a Christmas card. But for the 2014 holiday season, the team decided to step up their game by including the unique fashion accessory. 
"The idea came from messing around with a little Christmas tree, and how it looked a little like a pointy beard when you turned it upside down," Kennedy and Ashford told Mic. And though the beard baubles do share some resemblance to beard flowers, the duo told Mic they hadn't seen that trend before, but noted that this "just proves beard adornment is a 'thing' now."
"Working in an ad agency, we're constantly tapping into what's hot in pop culture. Although Christmas and beards have always gone hand in hand right? Just look at Father Christmas. ... And seeing as it's been a great year for the beard we thought it only fitting that we bejeweled them for the festive season."
After the baubles were met with such praise in the gift, the team decided to sell the ornaments to the public. Each packet contains 14 colorful ornaments, sell for about $11 and can be shipped to U.K., U.S., Australia, New Zealand, France, Italy, Spain, Sweden and Germany. Though because they were in such high demand, the baubles sold out within just a few days (don't worry though, they should be back in stock by Dec. 11).
"Our store went live on Saturday evening in the U.K.," Kennedy and Ashford told Mic. "And by the end of the weekend, it was pretty clear we'd hit upon something big. We knew it was a bit of fun, a bit silly even but never would have thought we'd get this many buyers."
But while the very fact that these exist would be spectacular enough on its own, the story gets even better. All proceeds raised of the sale of the holiday beard baubles will be donated to Beard Season, an Australian-based charity initiative started by Jimmy Niggles that's raising awareness and fighting melanoma, the most dangerous form of skin cancer, while encouraging men to grow their beards during the month of December — kind of like a one-month-later and full-beard version of Movember. 
"We shared our idea internally, and our boss had Jimmy Niggles' contact details," the duo told Mic. "Jimmy has a great thing going with Beard Season and we wanted to reach out to him. We shared our idea, and he loved it."
Though the baubles may seem a bit awkward to wear in your beard, Kennedy and Ashford reassured Mic that they'll work in beards of varying lengths and thicknesses. But, they admitted, "We do see them as the sort of thing you wear laying on the sofa after Christmas dinner, rather than walking down the high street. But hey, don't let us stop you."
Hairy holidays to you and yours!
h/t Daily Mail