Watch the Beautiful, New Trailer for 'Inside Out' — Pixar's Upcoming Film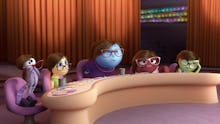 The new trailer for Pixar's upcoming Inside Out  has been released and, as expected, the movie looks like it's going to be all sorts of adorable.
The beloved animation studio teased audiences with a short preview earlier this year, but now we finally get a look at the feature about Riley, an 11-year-old girl who moves to San Francisco because of her father's new job. Inside Riley's head live her five emotions: Joy (voiced by Amy Poehler), Sadness (Phyllis Smith), Disgust (Mindy Kaling), Fear (Bill Hader) and Anger (Lewis Black). As Riley deals with the transition of a new home and new school, Joy tries to hold everything together.
The trailer gives our own Joy a reason to speak up. There are jokes about parental stereotypes, such as the oblivious father (whose absentmindedness sometimes hilariously causes his wife to think about the Brazilian helicopter pilot she passed up). The whole interaction at the dinner table is totally spot-on. And, of course, there's the sheer cuteness of all the emotions and how they materialize in each person's mind. This flick needs to come out as soon as possible.
Coming from director Pete Docter, who fronted Pixar tearjerkers like Monsters, Inc. and Up, Inside Out will surely tug at our heartstrings. And with the major star wattage like Amy Poehler, Mindy Kaling, Bill Hader and more providing voices, it sounds like the animated feature is going to be spectacular. 
Unfortunately, we're going to have to wait until the movie comes out on June 19, 2015. Until then, we hope all the Angers living inside of us can keep it together.
h/t io9