9 Under-the-Radar Politicians Who'll Dominate News in 2015 — Including the 'Female Obama'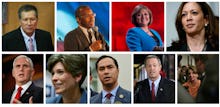 As the rest of the world waits for Hillary Clinton's big announcement (spoiler alert: she's running) there will be other serious and consequential political fights unfolding in 2015. Many will revolve around who might oppose the former secretary of state's inevitable presidential campaign, while others will be centered on more pressing issues like economic inequality and marijuana policy.
There is no separating the issues from the people who will be leading the debate. In the coming year, new faces are set to emerge on the national stage. And at least one is primed to return to old glory.
If you want to get a jump on what promises to be a dramatic and important year in American politics, get to know this formidable gang of nine:
1. Indiana Gov. Mike Pence (R)
The dark horse: Mike Pence, the Hoosier State's Republican governor, has deep ties to the mega-donor Koch brothers, which means he'll be able to take the necessary time building up his inevitable presidential campaign. (Candidates with fewer backers need lots of early success to build fundraising momentum.) That he's spent these past two years working so nearby Iowa, home to those all-important first presidential caucuses, doesn't hurt either. Pence also enjoys the unique ability to sell himself as a "Washington outsider" — that priceless political talking point — while also being deeply connected to the Beltway, having spent a decade there as a congressman from 2003 to 2012.
What they're saying: "He is an evangelical Midwestern conservative who has the compelling family story to tell of his grandfather being an Irish immigrant who drove a bus in Chicago," John Dunagan, a former George W. Bush campaign aide told the Daily Caller. Mix that in with a spotless record of anti-union, pro-tax cut policy initiatives and you have the candidate Republicans hoped Ricky Perry would be in 2012. 
2. California Attorney General Kamala Harris (D)
California's next senator? Kamala Harris was elected as California's first-ever black female attorney general in 2010, and she will begin her second term as the highest-ranking law enforcement official in the country's biggest state this January. But pundits are already speculating about Harris' next move. If someone like Vice President Joe Biden or former Maryland Gov. Martin O'Malley can upset Hillary Clinton and grab the 2016 Democratic presidential nomination, expect to see Harris on the shortlist for vice president.
Barring that, she's expected to turn her attention to the Senate. Democratic Sen. Barbara Boxer is looking more and more likely to retire at the end of her current term, meaning California is probably going to need a new senator in 2016. There's also going to be a governor's race in 2018. Harris will be a major player in one if not both of those races, and she'll need to lay the groundwork in 2015.
Oh, and she's open to to broader efforts to legalize marijuana.  
What they're saying: "She very well could become the 'female Barack Obama' of liberal dreams," according to Politico.
3. Former Maryland Gov. Martin O'Malley (D)
Not ready for Clinton: Former Maryland Gov. Martin O'Malley doesn't have the following of Sen. Elizabeth Warren (D-Mass.) or the progressive cred of Sen. Bernie Sanders (I-Vt.), but he is considered the most realistic threat to Hillary Clinton's claim to the 2016 Democratic presidential nomination. The former Baltimore mayor showed his hand recently, calling on the Justice Department to appoint a special prosecutor to further investigate the individuals behind the CIA torture program. He knows it won't ever happen, but the words alone will gain him some traction with more liberal Democrats.
Pundits say that Maryland Lieutenant Governor Anthony Brown's loss in a November race to succeed O'Malley, despite the governor's support, was a sign of weakness. But O'Malley remains a popular figure in the state and a crafty politician. (Fans of the HBO seriesThe Wire should know that councilman-turned-mayor Tommy Carcetti was conceived with O'Malley in mind.)
What they're saying: "I think right now O'Malley is running to become the other guy, with the hope that the field will quickly narrow to two candidates. ... Of all the people out there [who could run against Clinton in the primary], he's the one I would be most worried about," longtime Democratic strategist Joe Trippi told the Washington Post in September.
4. New Mexico Gov. Susana Martinez (R)
Future VP? The Washington press corps doesn't normally spend too much time on New Mexico politics. But that is going to change in 2015. While the usual suspects duke it out for the GOP presidential nomination, twice-elected Gov. Susana Martinez will be waiting just offstage, one of the heavy favorites to join the eventual nominee on the general election ballot. 
Assuming the party goes with a white male candidate, Martinez will be zeroed in on as the answer to Democrats' strong standing with women and Latinos. (She criticized President Obama's executive actions to stop deportation of people living in the U.S. without permission, but has also advocated for some kind of comprehensive reform.)
Martinez and her husband Chuck are Republican converts — they used to be Democrats. She switched parties in 1996 before running for district attorney.
What they're saying: "She looks great on paper, and that's what the national operatives see," influential New Mexico journalist Joe Monahan told Real Clear Politics. "I think really the Achilles' heel here that she has to overcome is that perception of being the Sarah Palin-type figure. The national political community is not going to risk that again." 
5. Rep. Joaquin Castro (D-Texas)
Mission impossible: The world's second most famous pair of Castro brothers are taking the capital by storm. Joaquin Castro is a Democratic congressman from Texas' 20th district, while his identical twin brother Julian left his post as mayor of San Antonio to become join President Obama's cabinet as Secretary of Housing and Urban Development. 
But it is the one-minute-younger Joaquin who figures to have a very interesting 2015. Politico reports that he is one of two potential candidates to lead the Democratic Congressional Campaign Committee. Never heard of it? Just know this: If he gets the job, his charge will be to return Democrats to a House majority following three elections in which they have lost an incredible 69 seats.
Though he could wait until 2018 to challenge Texas Gov.-elect Greg Abbott, there is a growing belief that Castro is eyeing a 2016 showdown with tea party leader and likely presidential candidate Sen. Ted Cruz (R).
What they're saying: "He is, separate from his brother, an astute, emergent leader in his hometown, within his district, across the state of Texas, and you only need to look at the Sunday news programs to understand that he's got a voice that's listened to nationally," Henry R. Munoz Jr., family friend and national finance chair of the Democratic National Committee, told the Washington Post in August.
6. Sen.-elect Joni Ernst (R-Iowa)
Ready to make D.C. squeal: "I'm Joni Ernst. I grew up castrating hogs on an Iowa farm."
And with that, the soon-to-be senator from the Hawkeye State made a memorable entry on to the national stage. The Iraq War veteran will be the first female senator from Iowa and likely its most conservative in decades. Expect to see her alongside Sens. Cruz and Mike Lee (R-Utah), ruthlessly fighting against gun control legislation and anything the United Nations might agree on. 
But contrary to what some critics might suggest, Ernst is no Sarah Palin. She is a smart politician whose "mother, soldier, leader" mantra during the campaign gives you an idea of how she'll allocate her power. Expect her to be, for better or worse, a strong voice on national security policy for years to come.
What they're saying: "I'd like to like her," an Iowa Democrat told Politico during the campaign. "She's personable; farmer's [daughter], in the National Guard. I think that carries a lot of weight. A lot of people admire the combination she's got."
7. Ohio Gov. John Kasich (R)
Wall Street's man in Ohio: Recently reelected Ohio Gov. John Kasich has quietly gone about the business of rebuilding the state economy, which was in shambles when he arrived on the job in 2010. Kasich is steeped in corporate America, having worked as a managing director at the criminally mismanaged financial house Lehman Brothers from 2001 to 2008, but he's no ideologue. He accepted the Medicaid expansion provision (which meant more federal money to insure the poor and elderly) from Obamacare when most Republican governors would not, though he still pays lip service to the idea of repealing other parts of the law.
Kasich will have a hard time not getting caught between bigger-money establishment candidates and tea party firebrands if he decides to enter the 2016 fray, but you can bet he'll be a big part of the discussion.
What they're saying: "I know he wants to have a legacy that shows he provides for citizens who have difficult circumstances, and more importantly for young people who need the opportunity to work," Ohio House Speaker Bill Batchelder (R) told Politico in October.
8. Dr. Ben Carson
The chosen one: Dr. Ben Carson is not going to be elected president in 2016. But he will certainly have a big influence in the Republican nomination contest, scheduled to formally begin in late summer 2015. Like him or not, the strict conservative pediatric neurosurgeon-turned-politician is a really compelling character. In October 2013, he called Obamacare "the worst thing that has happened to this country since slavery." In June, he had to clarify with a reporter that he did not think it was "worse than 9/11."
Consider this Nov. 20 exchange with an interviewer from the Christian Broadcasting Network:
David Brody: How is that conversation going with God about this potential presidential run? Has He grabbed you by the collar yet? I read an article about that.
The man feels the "fingers" of God pushing him toward the campaign trail. "Draft Ben Carson," indeed!
What they're saying: "If Herman Cain could poll 40% of the back vote, running against a black candidate, just imagine what percent of the black vote Dr. Carson would receive running against Hillary Clinton of any other far-left white Democrat!" said John Philip Sousa, the great musician's namesake, on Carson's website.
9. House Minority Leader Nancy Pelosi (D-Calif.)
Got her groove back: Laugh if you want, but the 27-year congressional veteran and former speaker of the House is looking primed for a serious revival in 2015. After spending the first six years of the Obama presidency working doggedly and at great political cost (see what happened to her majority after it passed Obamacare), Pelosi publicly broke with the White House over a Wall Street giveaway when it came time to hammer out a $1.1 trillion bill to fund the government. 
The minority leader and her liberal allies, including Sen. Elizabeth Warren (D-Mass.), ultimately lost that battle, but they made a significant point: Republicans and a White House apparently willing to compromise on economic issues are going to have a smart, seasoned politician tearing at their pant legs for the next two years.
What they're saying: "What Pelosi's revolt [on the spending bill] made clear is that while there will be more Republicans in the House and Senate come January, nothing can get done (or at least nothing can get done easily) without some portion of liberal Democrats on board," the Washington Post's Chris Cillizza wrote on Dec. 11.  "This was a warning to the White House and Senate Democrats not to cut Pelosi out or take her (or her liberal Democratic allies) for granted going forward."
Up next: Going forward, we will keep our eyes, ears and computer browsers open; in a year like this, with both major political parties looking for a new standard bearer, you never know who's going to pop up and change the game. What's not in doubt: It's going to be a lot of fun to watch.