'America's Next Top Model' Redefines What Beauty Looks Like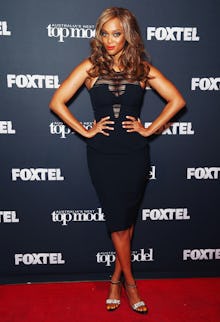 In case you missed it, here's who won America's Next Top Model last week:
If you're wondering why this is big news, take a look at some of the winners from the show's past:
Pro football player-turned-male model Keith Carlos is officially the first male winner of America's Next Top Model since the show began its run in 2003. His victory is a significant moment in the world of fashion reality television considering that until until two seasons ago, ANTM featured exclusively female contestants. This season, the three final contenders were men. 
ANTM has solidified men's important place in an industry dominated by female models. It's one of the few industries where men earn less than women, and names like Gisele Bundchen and Naomi Campbell come to mind when people think of supermodels rather than Rob Evans or Francisco Lachowski.
And male models aren't afraid to voice their opinions about the gender inequalities in modeling. David Gandy, a British model probably best known for Dolce & Gabbana fragrance ads, has spoken out about his frustration with the treatment of male models. According to Gandy, men in the industry are "the lowest of the low" and get less respect than their female counterparts even though they're both essential parts of campaigns. 
Carlos' victory in the show's the 21st season is a victory for men who are trying to make it in fashion. It's a step toward broadening the idea of what a supermodel is, and even marks societal progress in redefining what it means to be beautiful.
If you're not paying attention to ANTM, you should. Here's why: The show has broken fashion moulds in other ways besides featuring men. It regularly plays with gender-bending by blurring the lines between masculinity and femininity. It proves that women don't need have specific characteristics to be stunning.
For example, female contestants portrayed men, and men have put on long wigs, resulting in dynamic images.
Androgyny is also celebrated on the show. Host Tyra Banks has both cursed and blessed girls on almost every cycle with a super-short haircut. While some may see the snipping of ponytails as the show trying to make drama, it can also be seen as challenging what society deems beautiful. 
Banks does more than use gender to challenge stereotypes. The show has featured plus-size beauties since its second season, including Season 10's Whitney Thompson, who was the first to seize the coveted CoverGirl contract. 
Chantelle Brown-Young, a young model with vitiligo, which causes depigmentation to parts of the skin, competed in the most recent season. 
Brown-Young might not have won the title of America's Next Top Model, but she has become a sought-after model in the fashion industry and has been featured prominently in Desigual's fall campaign. 
Instead of accepting society's idea of beauty, Top Model has pushed the boundaries on what it means to be gorgeous in the world of fashion and modeling. We're unsure of what will be deemed "beautiful" next. New ideals of beauty might not pop up as often as new trends in clothing, but the continual inclusiveness of different appearances is promising. As more people see various types of beauty in the fashion world, they may begin to notice it in their own lives as well.