One Hilarious Video Shatters Society's Stereotypes About High-Powered Women at Work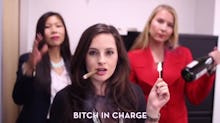 The Columbia Business School Follies, the sketch comedy group known for its hysterical mix of song, dance and incisive economic commentary, produced an amazing video pushing back against stereotypes and double standards faced by high-powered women in the workplace.
"She's really talented but comes on too strong and should be less abrasive," the "All About That Bass" parody begins with a male voiceover, a play into the common narrative of the "pushy" female boss that permeates the business world. "C'mon sweetheart, put a smile on that face."
The response is nothing short of amazing: "Act like a man, get called a bitch," the video's description reads. "A love letter to all the badass bitches who aren't afraid to be themselves in the business world."
Also, this frame: