These Bros Tried Drag For the First Time and Learned an Important Lesson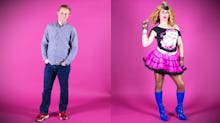 While drag culture has become more mainstream lately thanks to television shows like RuPaul's Drag Race, most people remain unaware of all the effort it takes to make such a huge transformation. And even though drag performances are meant to be entertaining, the process itself reveals some important lessons about gender that go far deeper than makeup tutorials.
In an effort to tease out some of these lessons, BuzzFeed asked four men to team up with professional drag queens in a humorous yet revealing video. As these "bros" move closer to their first drag performance, it's clear that they can't help but examine the typical boundaries of manhood.
"There's a fear of compromising your masculinity," one of the guys said. "But who cares?"
For the participants, the experience seemed to take them by surprise. Each of the guys sat down with their designated "drag mother" and constructed their drag persona. They focused on creating a hypothetical new personality, style and name for the stage. Many tried to carry their real-life personalities over into a new persona.
"A lot of the influences in my life are male. ... I'm silly, a little nerdy, with dashes of insecurity. I don't know how that translates into drag," one guy shared. A drag mother offered: "You won't know how you see yourself until you see yourself in drag. I say embrace the dash of insecurity onstage."
After crafting a new drag identity — one guy named himself "Kornucopia" because, he said, "I just have a lot to give" — the guys learned how to construct an appearance based on how most people understand and convey femininity. That meant choosing a wardrobe, putting on heavy makeup, contouring their bodies to construct a female silhouette, removing body hair and making a jarring change in footwear.
After trying on heels for the first time, one of the men claimed his "feet have not known this pain," while another likened the experience to trying to ice skate for the first time. 
In the end, they all performed onstage for an audience.
"I thought it was going to be kind of weird and that I would feel uncomfortable. But once you put all of this on, you really become a different person," one participant noted, adding: "Or at least you feel like you are, until your wig flies off."
It's important to remember that gender, in many ways, is about how one chooses to express themselves. That is to say, one's identity can develop over time and isn't necessarily the same as the one assigned at birth. Gender has long been confined in strict ways; being male is associated with masculinity and being female is tied to femininity. 
As a form of entertainment, drag allows people to play with gender roles in ways they probably wouldn't otherwise. Drag kings don clothing most men wear and use makeup and various mannerisms as a way to portray forms of masculinity. Along the way, all participants learn just how much of a performance gender really is. Ultimately, the video serves as a reminder that every individual has the power to define for themselves how they wish to be seen and understood by those around them. Whether one is cisgender, trans or gender non-conforming, there's no right or wrong way to be a man or a woman (or anything in between).