A Top Military Official Took a Powerful Stand in Support of Transgender Soldiers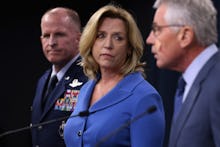 The news: While the 2011 repeal of "don't ask, don't tell" has made it possible for gay and lesbian people to openly serve in the military, the same cannot be said for transgender people, who have been banned under an outdated medical regulation that activists have been fighting to get rid of for years. But now for the first time, an active head of a U.S. military branch is also throwing support behind the repeal of this ban.
On Wednesday, USA Today published a wide-ranging interview with Deborah Lee James, the U.S. Air Force secretary. As for the question of transgender people actively serving in the military, James was clear: Gender identity should not automatically exclude people from joining the armed services.
While James said she "wouldn't be surprised" if policies prohibiting transgender people from serving came under review, it's still uncertain when that might come to pass. "You know, I think that is likely to come under review in the next year or so. So I think we should stand by, and times change, and we'll just have to see what happens there," she said.
This is still a big step. While James might not be committed to a specific deadline to review the military's transgender ban, it is still a remarkable attitude shift to see an active head of the armed forces supporting the move. Advocates believe that about 24 people have been dismissed from the military in the past two years due to their gender identity.
Earlier in the year, outgoing Secretary of Defense Chuck Hagel said he was "open" to reviewing the possibility of trans soldiers openly serving in the military. But nothing has happened since then, and it's unclear whether he will set any motions in place before he leaves office.
And in March, the Palm Center — a research commission headed by former U.S. Surgeon General Joycelyn Elders — found that "there's no compelling medical reason for the ban, but also that the ban itself is an expensive, damaging and unfair barrier to health care access for the approximately 15,450 transgender personnel who serve currently in the active, Guard and reserve components."
But this is just a first step. While James' words provide a much-needed signal that the military is ready to change, they needed to be followed by executive action to make them worthwhile.
Aaron Belkin, director of the Palm Center, called James' remarks "a positive step" but also said, "President Obama is the commander in chief and is ultimately responsible for setting policy, and it is imperative for him to clarify his position as well."
At least 18 other Western nations (including the United Kingdom, Australia, New Zealand, Canada, Sweden and Israel) have recently repealed their bans on transgender people openly serving in the military. Hopefully, James' words will spur the U.S. into joining the list some time soon.