Nicki Minaj's New Song with Beyoncé Proves Exactly Why They're the Queens of Pop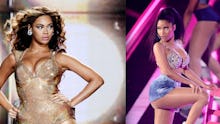 Two of pop's fiercest queens just came together to release "Feeling Myself," a song off Nicki Minaj's upcoming The Pinkprint that will almost certainly break the Internet.
As should be expected, Nicki Minaj and Beyoncé's "Feeling Myself" is one of the most powerful feminist anthems of the year. In four minutes flat, they make an indisputable statement about who runs the pop music industry. It's the capstone on what has been an incredible year for women in music — a double entendre about sexual independence and justified pride in what each star has accomplished.
Beyoncé and Minaj are at the forefront of the feminist movement in pop and R&B, and their partnership is a kind of G8 summit for women in pop. Both refuse to let anyone take their voice from them — Minaj asserts that she writes her own verses; Beyoncé cowrites and coproduces many of her own songs, and both run their own businesses expertly. They are what all female artists trying to enter pop or hip-hop should aspire to be. As Minaj says, "Cause we dope girls we flawless / We the poster girls for all this."
This is the second magical Bey-Minaj collaboration we've heard this year. Nicki loaned Beyoncé a verse for her "***Flawless" remix, adding a whole new level of ferocity to that girl power anthem. "Feeling Myself" will likely be the last single Nicki Minaj drops before The Pinkprint is released on Tuesday. It's far and away the most entertaining and empowering of her tracks to date. Anyone who wasn't excited for the album before should be now. Prepare for the revolution.