This NFL Player Has a Brilliant Response to Anyone Mad Over His "I Can't Breathe" Shirt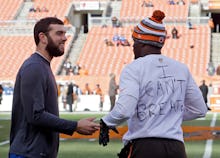 If you have a problem with professional athletes protesting police brutality with "I Can't Breathe" shirts and "hands up, don't shoot" gestures, then Cleveland Browns player Johnson Bademosi has a problem with you.
In a column for Sports Illustrated, Bademosi details his decision to wear an "I Can't Breathe" shirt before his game Sunday. He also addresses fans — of which there are plenty — who hate the protests and don't want to see him do anything other than play football.
When athletes step into the social sphere and express opinions on issues outside of sports, we're often met with one of two reactions. The majority of people thank us for peeling back the curtain on identities shrouded by uniforms. A small minority of people respond with what amounts to "Shut up and play." These are the same people who buy jerseys and tickets to games, or watch religiously on television. They help pay our salaries, and because of that they think they have a right to tell us what we can and can't say, essentially, what kind of men we ought to be. A lot of fans wear the jersey, and they consider it costume, not representative of a human being. Some support us as players but not as men. That the league is predominantly African-American helps explain why. I'm happy to say I don't want you as a fan if that's how you think.
Even that "small minority" can be pretty vocal. After the St. Louis Rams receiving corps took the field with their hands in the air on Nov. 30, some fans called for a boycott of the team and started burning their apparel. A Facebook group, Boycott St. Louis Rams, has more than 25,000 likes and an active comment section that you can probably already picture.
To its credit, the group did organize a drive so that Rams gear could be donated to the homeless rather than burned. But if a few relatively minor player protests — hand gestures and pregame t-shirts — make you abandon your fandom, you may not have been all that great a fan to begin with.
The leagues themselves are treading lightly for now, knowing that cracking down too hard could end up being a PR nightmare. After Chicago Bulls star Derrick Rose and other NBA players wore "I Can't Breathe" shirts during pregame warmups, commissioner Adam Silver said, "I respect Derrick Rose and all of our players for voicing their personal views on important issues, but my preference would be for players to abide by our on-court attire rules."
Change, of course, doesn't come through following the rules, even little ones like on-court clothing brand regulations. Athletes have a unique stage from which to make their voices heard, no matter how uncomfortable it might make their leagues. Just think of Olympic runners Tommie Smith and John Carlos, who held up their fists in the "black power" salute after winning gold and bronze respectively in the 200-meter dash at the 1968 Olympic Games.
"My T-shirt was a tribute to the life of Eric Garner and to the countless black men victimized by our country's never-ending hegemony, and an expression of the feelings that my teammates and I felt while we were discussing these issues," Bademosi writes. "Others had their own ways of supporting the cause, keeping it in their thoughts, prayers, etc., and I fully support that as well. Ultimately, every individual has to do what is best for himself and his family. I'm not losing any sleep over my decision."