Inspiring Photos Capture Hong Kong Protesters' Perfect Parting Shot at the Government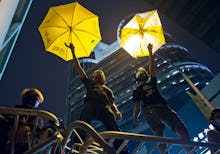 Honk Kong's democracy protests are over — for now.
The Associated Press reported that hundreds of police officers "armed with chain saws and bolt cutters" dismantled barricades and tents in a daylong operation to finally clear the protest camps from central Hong Knog after more than two months of demonstrations. Police told the Associated Press that 209 people were arrested for unlawful assembly and obstructing police officers.
The Guardian reported that around 1,000 people remained at the main protest site in Hong Kong's Admiralty into the early morning, but "many left when officers announced that those remaining after 2 p.m. would have their details taken before they could depart."
Hong Kong Federation of Students leader Alex Chow had a pointed message for city officials: "You might have the clearance today but people will come back on to the streets another day."