These Moms Lost Kids to Police Brutality — Now They're Fighting Back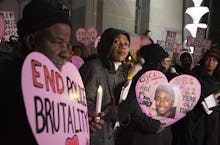 They traveled to Washington, D.C., with a message for Congress: Our children's lives matter.
Ten women, united in loss that no one should have to bear, demanded that lawmakers take action on police brutality on Capitol Hill on Wednesday. They make up a delegation of mothers whose sons were killed by police, and they don't want any more mothers to feel their pain. The delegation, assembled by representatives from Mothers Against Police Brutality, Codepink, the National Congress of Black Women and the Hands Up DC Coalition made their case to Congress during a three-hour briefing followed by a candlelight vigil outside the Department of Justice that evening.
"I need American citizens to stand up and fight this," Tressa Sherrod told assembled legislators, staffers, media and members of the public. "Because the police have too much power. They are getting away with killing unarmed black men and children."
Sherrod's son, John Crawford III, was shot and killed in August in an Ohio Wal-Mart after police mistook a BB gun he was holding — a product sold at the store — for a real gun. Other mothers buried their sons years or even decades ago, but they have not given up pursuing justice.
"It's been eight years for us, and we're still in pain," said Valerie Bell, whose son Sean Bell was killed on his wedding day when plainclothes police officers fired 50 shots into his car in New York thinking someone had a gun. The officers, whose attorney argued that they confused their own shots ricocheting for bullets being fired back at them, were later acquitted. "I'm here in Washington today to ask Congress to make a change," Bell stated. "If it was me shooting you, or shooting a police officer, where would I be?"
Despite the ongoing work of mothers like Bell, who founded a group called Mothers of Never Again in response to her son's death, the nation is paying more attention than ever to the issue of police brutality and the lack of regard for black lives may following the high-profile deaths of Michael Brown and Eric Garner at the hands of police officers who were later acquitted. The national outcry over the grand jury decisions in both Brown and Garners death have created an opportunity for mothers like Bell and Sherrod to ensure that no other family feels their pain.
Danette Chavis' son Gregory Chavis wasn't shot by law enforcement, but New York police allegedly prevented him from receiving medical treatment for his gunshot wound despite being a block away from a hospital. She said that Washington doesn't pay attention to problems like these unless someone profits. "It's been an issue long before Mike Brown and Eric Garner," Chavis told Mic. "The government's response seems to be martial law — they've already got tanks in the community. I hope our being here today will help prevent that."
The mothers' testimonies ranged from personal tales of loss to concrete demands for federal responses to police brutality. They expressed frustration in government at all levels, from officers who kill to prosecutors who don't seek indictments, and not forgetting the congressmen who don't take action in response.
"I'm here in Washington today to ask Congress to make a change. ... If it was me shooting you, or shooting a police officer, where would I be?"
That doesn't mean everyone in Congress was silent on the matter. Three lawmakers — Rep. Hank Johnson (D-Ga.), Rep. John Conyers (D-Mich.) and Rep. Sheila Jackson Lee (D-Texas) — addressed the crowd about planned legislation to address police brutality. The legislation would include measures to tie federal funding for law enforcement agencies to following federal standards on statistical reporting and racial profiling; it would also end the relationship between the military and police that allow weapons and other equipment to be transferred between the two.
"This is an American crisis," Rep.  Lee said. "Let me challenge the leadership of this House to not run away from the pain of mothers."
The delegation had other policy proposals, including random drug testing for police officers and expedited federal oversight of local law enforcement when an unarmed citizen is killed by police. Jeralynn Blueford, whose son Alan Blueford was killed by an Oakland police officer who didn't have his lapel camera on, proposed lengthy prison time for any officer who turns off a body cam in the field.
"If they turn off that camera, I demand that they go to jail and serve 25 to life," she said. "People are tired. They're sick and tired of the genocide of our young men."
"This is an American crisis."
At the briefing and the candlelight vigil, the mothers were surrounded by hand-drawn signs and crosses featuring their sons' names and photos. They opened the vigil by singing together before taking turns telling those assembled their individual stories.
"It's like sisterhood," Darlene Cain, whose son Dale Graham was killed by a Baltimore police officer in 2008, told Mic. "It's like we already knew each other. We're not alone."