50 Years Later, Sam Cooke's Lyrics on Race Are More Relevant Than Ever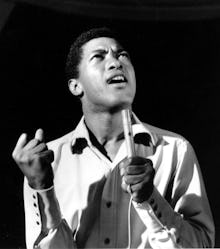 Thursday marked the 50th anniversary of the death of Sam Cooke, the greatest soul singer of all time. It also marks roughly 50 years since the release of his greatest song, the civil rights anthem "A Change Is Gonna Come."
Originally released just weeks after his death, Cooke's 1964 masterpiece was in many ways an anthem for a nation in chaos. Considered his greatest composition and since preserved in the Library of Congress, the National Recording Registry has called the song "culturally, historically or aesthetically important." It is just as culturally relevant today as ever before. In fact, it's more necessary now than ever.
The background: Coming roughly in the middle of the civil rights movement of the '50s and '60s, Cooke was inspired to write the song after he and his entourage were turned away from a Holiday Inn in Shreveport, Louisiana, because they were black. It wasn't just the hotel that was intolerant, though, the New York Times reported on the story the next day. They headlined their story "Negro Band Leader Held in Shreveport."
The incident affected Cooke, who was always sensitive to racial inequalities. Inspired by Bob Dylan's poignant and recent "Blowin' in the Wind" and its ability to encapsulate the country's immense problem with racism, Cooke wanted to channel his own frustrations into song. The result was absolutely stunning.
At the time, Cooke and his collaborators knew they had found something special. His biographer, Peter Guralnick, told NPR:
He grabbed it out of the air and it came to him whole, despite the fact that in many ways it's probably the most complex song that he wrote. It was both singular — in the sense that you started out, 'I was born by the river' — but it also told the story both of a generation and of a people.
Clear parallels: But while the song was inspired by and written for the civil rights movement, he spoke for a nation in turmoil, capturing simple but amazingly powerful themes and messages that resonated with a country in confusion and resonates all the more with our present day racial turmoil.
Fifty years later, following the non-indictments in the deaths of Michael Brown in Ferguson, Missouri, and Eric Garner in Staten Island, New York, both unarmed black men killed by white police officers, Cooke's lyrics are stirringly relevant.
Cooke sang of the systematic problems that hold black Americans back from birth. Gawker notes that, according to posts on the the NAACP's Legal Defense Fund Twitter, police have killed at least 76 black men and women since the 1999, 14 of which came in 2014 alone. Racialized violence is still an institutionalized problem.
I was born by the river in a little tent
Cooke sang of how black men and women were harassed for everyday activities — a sentiment familiar to anyone subjected to New York's unpopular stop and frisk law where many minorities were stopped simply for appearing to be suspicious.
I go to the movie and I go down town
Cooke sang of the climate of distrust — the kind of society where an overwhelming 70% of black Americans believe the country is doing a "poor" job holding officers accountable when misconduct occurs. That same 70% also believes the police forces are doing a "poor" job treating ethnic groups equally. 
Then I go to my brother
And Cooke sang of the general feeling of helplessness that comes from living in a theoretically democratic society where 90% of black Americans can feel one way about a case affecting black Americans and see the exact opposite thing happen.
There been times when I thought I couldn't last for long
Right now, in America, we are still waiting for a change to come.
But if there is one thing that gives us hope even at our darkening hour, it's Cooke's voice. In it, there is pain and honesty. In it, there is hope and the reminder that we need to work through this together.