9 Awesome Celebrities Who Used Their Fame to Make a Difference in 2014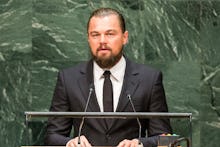 Stars: Are they really like us?
Some of them might be, if you're also dedicated to a cause. Along with being super talented, there are a fair number of celebrities who also stay busy with charities and philanthropic efforts.
While some names in Hollywood seem like total divas and jerks, we can be thankful for the ones who also strive for selflessness. Check out these nine celebrities proving that they're much more than just a pretty face — they're also inspiring others and making real-world change with their fame. 
Leonardo DiCaprio 
The award-winning actor might have stolen our hearts in Titanic, but this past year he gave us even more reasons to love him. In June, DiCaprio pledged $7 million toward ocean conservation, which came at the heels of President Barack Obama's executive actions to protect marine areas. And on Twitter, he's often highlighting environmental issues. Just a hottie trying to save the dolphins.
More recently in September, the Wolf of Wall Street star spoke out against climate change at the U.N.'s Climate Summit in New York. "This is not a partisan debate, it is a human one," he said. "Clean air and a livable climate are inalienable human rights."
Diane Guerrero
The Orange Is the New Black actress appeared on CNN to discuss her experience as the child of undocumented parents. When she was 14, she came home to find her family's cars there, dinner started, lights on — but she couldn't find her parents. Neighbors came by to tell her they had been taken away.
Guerrero's intimate story came to light just before President Obama announced a series of executive actions to protect millions of undocumented immigrants in the United States from deportation and provide many with work permits. Although her parents could not reap the benefits of Obama's plan, leaders like her exposing how undocumented people are treated in America may pave the way to change. 
Lupita Nyong'o
Nyong'o impressed audiences with her portrayal of Patsey in 12 Years a Slave. The actress received a best supporting actress Oscar for the role, becoming the fifth black woman in history to receive the award. She came close to tears during her acceptance speech, but her final words are what truly resonate:
"When I look down at this golden statue, may it remind me and every little child that no matter where you're from, your dreams are valid. Thank you."
Matt Damon
While everyone was busy doing the ALS Ice Bucket Challenge to bring awareness to the disease, Damon used the trendy piece of philanthropy to talk about water scarcity. A cofounder of Water.org, Damon has dedicated himself to bringing awareness to the importance of clean drinking water. 
In his video, instead of using clean water and adding to the millions of gallons tossed for the challenge, Damon dumped water from his toilet onto his head. He also educated viewers about the scope of the issue: There are 780 million people in the world who don't have access to clean water, while 2.4 billion people are without adequate sanitation. 
Laurie Holden
The Walking Dead actress was a part of Operation Underground Railroad, an initiative to bring down sex trafficking rings. According to ABC's Nightline, a group of volunteers, including everyone from ex-Navy SEALs to average Joes, tracked down and captured Marcus Bronschidle, who had been trafficking young girls for sex in Cartagena, Columbia.
Holden and the rest of the mission party went undercover to rescue 55 young girls. "What makes me sad is that yes, we got four traffickers, and I hope they fry, but what makes me sad is that so many of these little girls, they don't know any different," the actress said. "I know we did some good tonight. But I know that more needs to be done."
Emma Watson 
Watson gave a speech bringing attention to the importance of gender equality and feminism at the U.N. Headquarters in New York as a part of the "HeForShe" campaign. Her message was simple yet powerful: "Gender equality is your issue too."
The Harry Potter actress was named a U.N. Goodwill Ambassador earlier this summer, which can sound like some lofty title given to a star for the ploy of fake celebrity activism. But with the speech and the campaign, Watson proved that she's not taking the responsibility lightly.
Jesse Williams 
He's not just a set of dreamy eyes. Williams has used his celeb status (he's a series regular on Grey's Anatomy) to vocalize America's racial disparities, in a year where the deaths of Michael Brown and Eric Garner have not found justice. He put CNN on notice for their sloppy coverage of the events in Ferguson — while on CNN. 
But his activism didn't stop after appearing on the news. Williams has also tweeted about his outrage about the racial prejudices that plague society and even went down to Ferguson, Missouri, in October to protest. 
Miley Cyrus
At the 2014 MTV Video Music Award, the wrecking ball herself had a 22-year-old homeless man named Jesse accept her award for Video of the Year. It wasn't because Cyrus was too lazy to get out of her seat — it was a platform to bring awareness to youth homelessness.
"Though I may have been invisible to you on the streets, I have a lot of the same dreams that brought many of you here tonight," Jesse said. In 2013, approximately 50,000 young people in the U.S. slept on the streets for half a year or more. The young man also announced that Cyrus was raising money to support a homeless center. While some may be critical of Cyrus's antics, this act of philanthropy was definitely honorable. 
Aziz Ansari 
Beyoncé, Taylor Swift and now Ansari have all come out this year as feminists. The comedian and actor talked about his support for gender equality on The Late Show with David Letterman. While being all for feminism has seemed trendy for celebrities this year, Ansari has the correct idea about it and communicates his advocacy with his signature humor.
While on the show, he cracked jokes about the negative connotations that surround the word. "People think feminist means like, some woman is gonna start yelling at them," he said. "If you believe that men and women have equal rights, if someone asks if you're feminist, you have to say yes because that is how words work."
Talented, dashing and sparking change — what can't these stars do?