America's First Black Supermodel: I Was Drugged by "Motherf*cker" Bill Cosby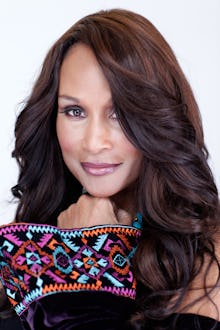 "I knew by the second sip of the drink Cosby had given me that I'd been drugged — and drugged good."
Those are the alarming words of the latest and most high-profile woman to come forward with allegations that comedian Bill Cosby drugged her in the mid-1980s. Beverly Johnson, the first black woman to appear on the cover of Vogue and "the first black supermodel," has written an essay about the drugging and attempted assault for Vanity Fair after decades of silence — in part, she says, because of the plight of innocent black men who haven't benefited from the "support and protection" of the powers that be.
The details of Johnson's story mirror those of the nearly two dozen women who have come forward in recent months with accusations that Cosby drugged and raped them. Johnson, who was in the middle of an "ugly" custody battle and was hoping to break into acting, was invited to play a pregnant woman on The Cosby Show, then the most popular show in America. Cosby invited her to his brownstone to read for the part and immediately suggested that she pretend to be drunk during her line readings. "When did a pregnant woman ever appear drunk on The Cosby Show?" Johnson wrote. "Probably never, but I went with it."
According to Johnson, Cosby then forcefully offered her an espresso: "I told him I didn't drink coffee that late in the afternoon because it made getting to sleep at night more difficult. He wouldn't let it go. ... It's nuts, I know, but it felt oddly inappropriate arguing with Bill Cosby so I took a few sips of the coffee just to appease him."
Johnson, a top model during an era when drugs were passed around at photo shoots "like bottled water at a health spa," says that she could immediately tell that the drink was spiked. Her account of what happened next:
"My head became woozy, my speech became slurred, and the room began to spin nonstop. Cosby motioned for me to come over to him as though we were really about to act out the scene. He put his hands around my waist, and I managed to put my hand on his shoulder in order to steady myself. As I felt my body go completely limp, my brain switched into automatic survival mode. That meant making sure Cosby understood that I knew exactly what was happening at that very moment. 'You are a motherfucker aren't you?'"
Johnson writes that Cosby, infuriated, dragged her down the stairs, hailed a taxi and wordlessly shoved her in the backseat before walking back to his home. "I somehow managed to tell the driver my address and before blacking out," she writes. "I looked at the cabbie and asked, as if he knew: 'Did I really just call Bill Cosby a motherfucker?'"
Other accusers helped her come forward. Johnson "watched in horror" as friend and fellow model Janice Dickinson was pilloried for coming forward with similar allegations against Cosby. "Over the years I've met other women who also claim to have been violated by Cosby," Johnson writes. "Many are still afraid to speak up. I couldn't sit back and watch the other women be vilified and shamed for something I knew was true."
Although she was concerned that going public about the allegations against Cosby would further add to "the current plight of the black male," Johnson determined that, if anything, the fates of Trayvon Martin, Michael Brown and Eric Garner had nothing to do with Bill Cosby. "He brought this on himself when he decided he had the right to have his way with who knows how many women over the last four decades. If anything, Cosby is distinguished from the majority of black men in this country because he could depend on the powers that be for support and protection."
This brings the number of women who have either publicly or privately accused Cosby of assaulting them to 34. Cosby has not directly responded to this or any other rape allegations — although he refuted "innuendos" to Florida Today — but Johnson's essay may finally push the comedian to come forward.