Congressional Staffers Just Staged a Walkout — These Powerful Photos Show Why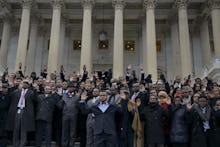 More than 150 congressional staffers, as well as a few elected officials, walked off the job Thursday afternoon, gathering on the steps of the Capitol to join protests in support of the families of Michael Brown and Eric Garner, two unarmed black men killed by police officers last summer.
Grand juries in Missouri and New York decided not to indict either man's killer. Neither former Ferguson Police Officer Darren Wilson and nor NYPD Officer Daniel Pantaleo were formally charged with a crime, sparking protests across the country.
"Black staffers on Capitol Hill wanted to do something in support of ongoing national and global protests against police aggression," an organizer told the Daily Beast on Wednesday. "Many of us felt we needed to stand with others who were taking on the issue of police abuse and do it here, where we work, even though not all of us have had that same experience, personally."
Here are a few powerful images from the walkout. The staffers are on the steps of the Capitol, their hands in the now familiar "Hands Up, Don't Shoot" pose:
Rep. Elijah Cummings (D-Md.) was among a handful of House members who joined their staffers:
The staffers stepped out during a particularly tense afternoon on Capitol Hill. Members from both chambers are in the midst of waging rhetorical battle over a new bill to fund the government, which could shut down without an agreement by the end of the day.
As important as those debates may be, this show of solidarity with so many hurt and angry people around the country suggests there might be some hope for Washington after all.