Shakira Just Did Something for Young People, and It's Even More Amazing Than Her Music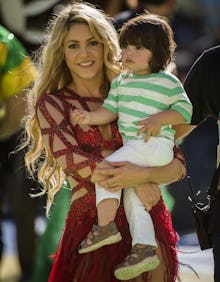 More than a few people were surprised this week when Shakira and Secretary of Education Arne Duncan held a Twitter chat about education, especially given the pop star's relative absence from the public eye. But just a few minutes into the chat it became clear that Shakira is one of the most informed and engaged public figures when it comes to childhood education.
That was a surprise to many — but it shouldn't have been. In an age of fake celebrity activism, she's long been one of the best models we have of how celebrities can use their status and power for a good cause. Shakira's hips don't lie. Neither do her politics
Shakira has been one of pop music's most outspoken celebrity advocates for education ever since her emergence on the scene in 1996. Since 2011, she's served on the Obama administration's Advisory Commission on Educational Excellence for Hispanics, helping lawmakers to shape policy for the community since. And she's now the newest face of the U.S. Department of Education's campaign to support the administration's early childhood education initiatives.
But this isn't just some celebrity co-sign, Shakira is genuinely engaged with the issue and knows quite a bit about it:
For the massively famous Shakira it hasn't ever been about the fame so much as it is about what she can do with her fame. She first got involved in education activism shortly after she landed her first major hit as an 18-year-old. She founded Pies Descalzos (Bare Feet), named after that first major pop album, a nonprofit that founds schools and works on educational policy in impoverished areas, like Haiti and South Africa. It recently built and opened their sixth school in her native home of Colombia, with more planned.
"This fulfills me in another way, a deeper set of ways — just gives purpose to my life," Shakira told CBS about her philanthropic work as compared to her music. "I always ask myself, 'What was the real purpose to my life?' I knew it was not to shake it endlessly, you know what I mean? There had to be more to it."
Even while "shaking it," though, she's shown more class than many other pop stars. She has avoided getting involved in feuds, scandals or facile social media activism like the majority of her industry peers. And while she's at it, she's performed beautiful, uplifting music, building a massive global following that has helped Latin American artists enjoy new levels of universality. 
In that way, she has covertly become the world's pop star. She's performed at three of the past World Cups. Her song "La La La" became the de facto anthem in Brazil this year, after audiences slammed the official theme song by Jennifer Lopez and Pitbull was pegged "boring" and "stereotypical." Shakira's video highlighted more cultures and World Cup players, inspiring the hashtag #ShakiraSavestheWorldCup. The video also helped raise money for the World Food Program. Donations from the video allowed the bank to provide 4.2 million nutritious meals to kids around the world. Shakira cannot help but do more.
Her philanthropic reach is as massive as her music's, too. In 2003, she became a UNICEF ambassador. And in 2007 she traveled to Bangladesh with the organization to study the education programs the foundation had set up and to comfort children affected by Cyclone Sidr. What she saw there reaffirmed her dedication to creating safe, enriching spaces for children can learn.
"The child-friendly spaces are like oases in the middle of damage and destruction where I have seen children play with each other, sing, dance, read and draw, to unburden the distress inflicted by the disaster," Shakira said. "The world should focus on creating more of such spaces where children can be children, even in a calamity."
All the philanthropic experience Shakira has gained over the years makes her the perfect candidate to represent our own country's dedication to improving our education system. She's also an inspiration to other celebrities looking to use their voice to create social change. If more pop stars were able to make such brilliant use of their voices to support their own causes, the world would undoubtedly be a better place. We need more people with Shakira's unshakeable commitment to the world — in her music and her advocacy.