Baltimore Police Allegedly Uses Taser on Woman for Taping Them Beating a Man in Custody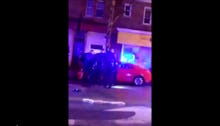 A 35-year-old Baltimore woman claims that city police officers allegedly used a Taser on her and arrested her after she recorded them brutally beating a "handcuffed and defenseless" suspect on the street. 
Police attempted to force Kianga Mwamba to delete the recording off her phone, only to have the incident — which involves police dragging her from her car and referring to her as a "dumb bitch" — stored in her Cloud account. Mwamba is now suing the city for $7 million for violating her civil rights.
How the incident went down: Recorded March 30, the video only came to light after being uploaded to YouTube on Dec. 8. ArsTechnica reports:
Stopped in traffic, she began filming the nearby arrest of a man who she says was kicked by police. "I'll park. I'll park. I'll park," the woman is heard saying in her own recording.All of a sudden an officer says, "Out of the car. Out of the car." She was yanked out. "He burning me. He burning me," the woman is heard screaming.
Mwamba told CBS that she was tased not just once, but twice. Somehow, though, it gets even worse: Mwamba was arrested on charges of assault for allegedly trying to run over two officers. 
Charges were dropped, and she suffered cuts and bruises. At the end of the tape, an officer says, "You a dumb bitch, you know that?" "What did I do?" she asks. "You just tried to run over an officer," the officer responds.
Mwamba handed over her cellphone while in custody to demonstrate she clearly wasn't trying to murder two police officers. She contests that the officers deleted the 135-second recording from her phone. Fortunately, the video was recovered from her Cloud account. Without the video evidence, it would have been Mwamba's word against the officer who called her a "dumb bitch."
The background: In a statement, the Baltimore Police Department admitted the language in the video was "both offensive and unacceptable" and "will not be tolerated" but insisted the video didn't show enough of the incident to reach any conclusions. The Baltimore Sun reports that the recording appears to directly contradict police officers' claims of an orderly arrest.
Earlier this year, the paper reported that the Department of Justice was preparing a "thorough, independent and objective review" of the department amid widespread allegations of excessive force. Between 2011 and 2014, the Baltimore Sun reports the department had paid out $5.7 million in a staggering 102 civil suits alleging misconduct.
In the wake of the deaths of Michael Brown in Ferguson, Missouri, and Eric Garner in Staten Island, New York, there's been increased sensitivity to use of excessive force and police brutality around the country. Incidents like these should be both a wake-up call about the way police operate and a reminder that the right to film police in the course of their duties is absolutely necessary to prevent abuse.
Sadly, this right — the same one that also brought us video of Garner's death while being arrested by the New York Police Department — is often viewed with open hostility by overzealous authorities. Progressives and civil libertarians alike should view these trends with alarm: One day, police might not even have to destroy evidence to silence watchdogs like Mwamba.