One Woman Just Made History for Black People in Hollywood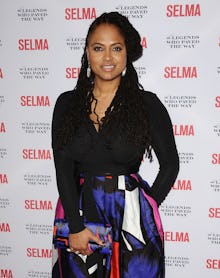 Hollywood has always been a harsh place for people of color — especially women of color. Jobs are scarce both onscreen and off, and work tends to be driven by stereotypes, racism and the same systemic barriers that also spur gender inequality in other professions. 
But there's now cause for celebration. 
When the Hollywood Foreign Press Association announced Thursday morning the 2015 Golden Globe nominees, one name stood out as a welcome reprieve: Ava DuVernay, now — incredibly — the first black woman to be nominated for Best Director.
To understand the magnitude of DuVernay's achievement, consider this: In the ceremony's 72-year history, only two other black people have been nominated in the category — Spike Lee (Do the Right Thing, 1990) and Steve McQueen (12 Years a Slave, 2013). Both are men; neither won. 
Even in an overwhelmingly male-dominated industry, their nominations speak to how rare it is for black filmmakers to get recognition.
This scarcity is not a reflection of talent, of course. Black directors, both female and male, are responsible for some of the most critically and popularly lauded films of the past hundred years. A large number have even done so independent of Hollywood's old boys' club: From Julie Dash and Kasi Lemmons to Charles Burnett, Ryan Coogler and Justin Simien, the black indie film scene has never lacked in quality or innovation.
But DuVernay's position as a woman, a person of color and the director of a high-profile film is even more unique. Selma tells the remarkable true story of Martin Luther King Jr. during the summer of 1965, when he led a civil rights march from Selma to Montgomery, Alabama, which culminated in President Lyndon B. Johnson signing the Voting Rights Act.
Paramount Pictures is distributing the film, which will see a limited release Christmas Day and a wider release Jan. 9, 2015. So far, it has received significant critical acclaim.
DuVernay is no stranger to firsts: In 2012, she became the first black woman to win Best Director at the Sundance Film Festival for Middle of Nowhere. If she's nominated for a Best Director Oscar, she will also be the first black woman, and only the fourth black person, to receive a nomination.
In light of the recent attention drawn to successful black female actors, specifically Lupita Nyong'o, it's important to recognize that the industrywide failure to recognize and promote black talent in media extends to behind the scenes as well — arguably even more so. That's why DuVernay's accomplishment is so remarkable. 
With any luck, it'll pave the way for more young women of color to pursue careers in directing.