Eric Garner's Daughter Just Sent a Powerful Message to the New York Police Department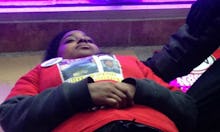 "Die-ins" have become a core feature of protests around the country in response to a grand jury's decision to not indict a police officer in the choking death of Eric Garner in Staten Island, New York. On Thursday night, Garner's 24-year-old daughter Erica staged the most powerful die-in yet: in the spot where her father died in July.
Erica Garner, 24, was joined by a group of protesters who collectively staged a die-in at the stretch of sidewalk where her 43-year-old father was slain in July.
A grand jury declined in early December to indict Officer Daniel Pantaleo, who put Garner in an unauthorized chokehold that led to Garner's cardiac arrest and subsequent death. Pantaleo had stated he felt "very bad" about Garner's death and sent his condolences to the Garner family. 
Garner's widow, Esaw, rejected his apology.
"Hell no! The time for remorse would have been when my husband was yelling to breathe," Esaw said recently during a press conference. "No, I don't accept his apology. No, I could care less about his condolences. He's still working. He's still getting a paycheck. He's still feeding his kids, when my husband is six feet under and I'm looking for a way to feed my kids now."