J.K. Rowling Just Released a New 'Harry Potter' Story about Lily Potter and Severus Snape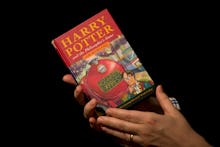 The holidays are here early for Harry Potter fans.
J.K. Rowling announced on Dec. 5 that she would be posting new stories to her website Pottermore in the 12 days leading up to Christmas Eve, and the first one is finally here. 
It's called "Cokeworth," and it presents a brief explanation of the town where Harry's mother Lily Evans, his Aunt Petunia and potions master Severus Snape grew up. 
It requires readers to answer a riddle to gain access (and we're not telling!), but once inside, Potterheads will learn that Cokeworth was the site of many important scenes in the series. 
Besides being where Lily turned into a "talented witch," it's also where Harry, his aunt, his uncle and his cousin spent a night in the beginning of The Sorcerer's Stone and where Bellatrix Lestrange and her sister Narcissa Malfoy visited in the opening of The Half-Blood Prince. 
Here's a sneak peek: 
An email to Pottermore subscribers promised "wonderful writing by J.K. Rowling in moments from Half-Blood Prince, shiny gold Galleons and even a new potion or two." 
The rest of the stories will be released daily from now until Christmas Eve. According to the Telegraph, one of the mini literary gifts will even include Draco Malfoy.
h/t BuzzFeed