Malala Wept When She Saw Her Bloodied School Uniform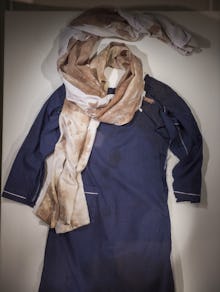 She's so brave. Malala Yousafzai, the 17-year-old Pakistani schoolgirl whose push for universal childhood education earned her the Nobel Peace Prize, burst into tears upon seeing the school uniform she was wearing the day members of the Taliban attempted to assassinate her.
The uniform, on display in Oslo, Norway, as part of an exhibition honoring Yousafzai and fellow Nobel winner Kailash Satyarthi, has never been seen in public before — nor, apparently, has it been seen by Yousafzai herself.
According to Dawn, the preternaturally composed teenager was touring the exhibition with her fellow Nobel winner when she came upon the bloodied uniform, still stained from the injuries that nearly killed her in October 2012, and broke down.
Satyarthi, an advocate for children's rights in India, rushed to Yousafzai's side to console her. "You are so brave, you are so brave," he said, according to Norwegian news agency NTB.
The activists are coming together to fight for children's rights: Satyarthi's Save the Childhood Movement has acted to protect the rights of more than 83,000 children in 144 countries. Yousafzai, the youngest Nobel laureate in history, has used her experience fighting for educational rights in Pakistan to urge the U.N. to push the same agenda for the world's 58 million out-of-school children.
But, according to the duo, the greatest part of their activism has been meeting each other. On the day they were awarded their Nobel Prizes, Satyarthi stated: "Many things are happening today, and the best thing that happened is that a young and courageous Pakistani girl has met an Indian father and the Indian father met the Pakistani daughter."